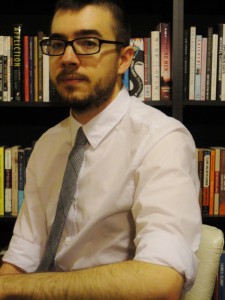 [1]If our June web exclusive were a cocktail, the recipe for it might look something like this: Start with one good sentence. Add bourbon, water, ghosts. Measure carefully, with control. Pour over ice and enjoy, savoring each word. This month's feature, "Ghost Water" [2] by Casey Hannan, is definitely a story to be savored. Sharp yet sweet, rich with complexity and heart, and brimming with precise, graceful language—it's one you won't want to miss.
We asked Casey a few questions about "Ghost Water," writing flash fiction, and his favorite bourbon. Read more in our interview below. You'll find his story [2] on the ASF website.

1. Tell us about the genesis of "Ghost Water." Where did the idea for this story come from?
I've been telling the same story for the last two years about men meeting and connecting. They haven't been love stories for the most part. The men get to be themselves and there's sex, of course. The men are part of the world and outside it. That's my life now and the life I was waiting for when I was a teenager. There weren't any stories like that for me growing up. I mean, they existed, but I didn't find them. I found MTV.
"Ghost Water" has love, though, and the characters have known each other forever. I started with their shared love of bourbon and as I wrote, I realized these men share everything.
2. I recently listened to a Late Night Library [3] interview with Roxane Gay in which she mentioned you as an emerging writer to watch and called you a "master of flash fiction." That's a great compliment, and one that I definitely second. So, let's talk a bit about flash fiction. Why write short? What does very short fiction offer you—as a writer or as a reader—that perhaps longer fiction can't?
First, a little about Roxane Gay. She's one of my good friends. She sent me boots in the mail. When she said those things about me on Late Night Library, I got scared. I can never live up to all that, but I'll try. I'll probably die trying.
Short fiction offers control. I believe language is one of the few things we have any actual control over. We get to choose our own words. I can't imagine wasting the opportunity and saying too much. The longer a story gets, the more I lose control.
3. Roxane praised your stories for being intricate, surprising, and elegant—all adjectives that certainly apply to "Ghost Water." People often ask what ASF is looking for in submissions to the magazine, and I'd say that the qualities Roxane names are a pretty good place to start. What do you want from the stories you write? What do you want from the stories you read?
I just want to read stories and not cringe. I want that from the stories I read and the stories I write.
4. One of the things that's important to me as a reader is really beautiful sentences. And "Ghost Water" definitely delivers on that front. Amy Hempel has talked in interviews about assembling stories sentence by sentence rather than focusing on the overarching plot. Is that a process you relate to? 
Sentences are the story to me, especially in short fiction. I can tolerate reading a novel with bland sentences if the plot pays off in an exciting way. I can't tolerate the same thing in short fiction. In short fiction, I don't care what's told, I care how it's told.
I get working on a story if I have one good sentence. The sentence that got "Ghost Water" going was the sentence after Lee puts ice in the glasses of bourbon to mellow the taste. "As if you can shoot the wood out of a tree." The rest of the story spidered out from there.
5. Speaking of bourbon. . . I'm guessing, from its appearance in a couple of your stories, that you like bourbon. What is your favorite kind and what's the best way to drink it?
Oh yes. Bourbon. I do like bourbon. My favorite right now is 1792 Ridgemont Reserve. I was in Kentucky last year, and my friend took me to this bourbon bar. She picked out six or seven bourbons she thought I'd like, and we sat there and tried them all. I'd only ever had cheap bourbon with ginger ale, which I still like, but now I like my bourbon with just one cube of ice.
Lately, though, I've been experimenting. I've been taking bottles of bourbon and infusing them for a few days with cardamom, cumin, and cloves. Then I take a good ginger beer and mix it up in a big jar with the infused bourbon. I can drink that and write the early parts of a story and not be too bad about what I've written the next morning. I don't know if I've ever gotten a good sentence out of being drunk, but I have gotten good emotions.
6. Place is important in this story. The town, the river, the heat—they're completely inextricable from the characters' relationship. Can you talk a little bit about the role of place in your writing? How do the places you've lived find their way into your writing?
I am from Kentucky. I came to Kansas City for school and fell in love with a man. I'm still in love with that man, and that's why I haven't left Kansas City.
Place is important. It's important because it's where the writer and the reader come together. I'm an adult who's writing, and my audience is adults who are reading. I've been places and they've been places. I don't have to get too detailed about a bar. The reader is going to picture whatever bar they want to picture, and that initial image is going to stick with them no matter what else I say.
That said, place is more than just physical place. It's what certain places do to people. Because I've lived in Kentucky and Kansas City, my characters have too. Part of the work is accepting that and part of the work is hiding it. All my characters are part of me, but I don't want them to be all of me. That separation is difficult.
7. Can you tell us about the image you sent to accompany this story?
Yes. It's a photograph of me as a boy. Every summer for over 20 years, my family has gotten together at Lake Gaston in North Carolina for a reunion. I've never been far from the water. My hometown is on a river. Kansas City is on a river, too. Large bodies of water calm me down with how big and deep and scary they are. They've always made me think of ghosts. When I was a kid, I used to fall into this trap of thinking about the water I drank. I would think about how the water was part of someone else before me and how it would be part of someone else after me.
8. What are you working on now? What's up next for you?
I have a collection of short fiction forthcoming from Tiny Hardcore Press in early 2013 (UPDATE: Mother Ghost [4] is out now!). I'm working on the last few stories for that. But when I'm finished, I don't know. I just want to keep writing and see what happens.