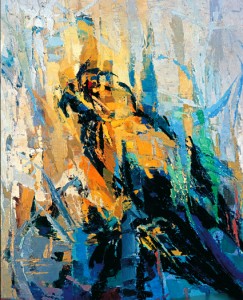 [1]Hedy loved Polly, the parrot at Trader Bob's airport bar. Hedy went directly there every day after work at the Terminal A newsstand. Hedy loved the way Polly echoed desire, like a mirror. So when she went there once again to sit across from Polly—to hear Polly say back to her "you are the bee's knees, the cat's meow"—but instead found the cage empty, she felt as Narcissus might, were he to gaze into the pool and see nothing but water. Hedy had envied Polly's position, how everyone loved Polly as Hedy did; Hedy wanted to hear such love from the world, but didn't know how to get it.
***
The idea came to her in a dream. When she presented it to Trader Bob, he didn't exactly jump at it. But because it would take time to train a new parrot and a parrot had brought in customers from faroff terminals, he finally gave in.
So Hedy quit the job at the newsstand, looked for a cage that would fit over her head. In a sex shop, she found an antique brank, a birdcage-like prison once used for witches and wives thought to be scolds. It had a bottom ring and metal prongs, curved so they'd sit on her shoulders. As he wrapped the brank in plastic, the salesman, covered in piercings and rings, said she must love someone very much. She liked connecting the brank to love, her willingness to go to great lengths to get it.
Hedy sat where Polly once sat, at the far end of the bar, under the sign that said "Polly Wants a Drink Order." The customers didn't recognize her until she squawked out "Parrot-y." They nodded—ah yes!—leaned in, then whispered to her their desired drinks, which she called out—"Squawk. Jack and Coke. Squawk."—night after night that entire June that turned into July and then August. Nights, she went home exhausted, slept until the beginning of her shift. Her dreams were silent movies, watched through the bars of a cage. She didn't feel full or loved, just empty. She thought, though, that it maybe felt better than before: wanting things, loving things, not getting them. Now there was nothing until a voice called out to her and filled her head, and then nothing again until the next voice called out its order.
***
In mid-August, Nate showed up. Instead of ordering a drink, he called out, "You are the bee's knees." Hedy repeated it.
"I could learn to love this," Nate said.
"Love this."
"Three Wise Men, neat," Nate ordered.
She repeated the neat three, four times. And Nate repeated the visits, night after night until she meant those things she'd repeated to him: about his gray eyes, his delicate nose, the flutter of his eyelashes.
***
In September—a few days after he'd said "Let's go out" and she said the same—she waited for him at the Fountain Room, next to the fountain. She'd thrown in her penny, wishing she'd know what to say when the time came.
She looked behind her, toward the door, then back front—and there he stood. In his hand, he held up a brank that, with the spray from the fountain, glistened.
"I figured you wouldn't bring yours," Nate said, sitting down, still holding the cage up like a wedding toast. "Boy, did I miss that parrot."
"That parrot?"
He called the waiter over, ordered his Three Wise Men, neat, and she almost called it out. "Well?" he asked.
Her head tilted, trying to figure it out.
"It's for me, silly—the cage. Not for you." And then he reached down, put it on. She'd never looked at herself in the cage. He looked not at all like a parrot. More like an imprisoned giant, someone punished by the gods or goddesses.
"Take it off," she told him.
"Take it off," he said.
"No. I mean it. Please. I hate it."
"I hate it."
What had made her think that reflecting him made them a couple? She wanted to rip it off, but his cage had a lock. Its bars still glistened from the fountain. He sat silent, waiting. The waiter arrived, pretended there wasn't this odd bird across from her with a cage on his head. She dipped a piece of bread in the Three Wise Men, neat. Fed it to him.
"I don't love you," she said.
"Love you. Love you. Love you." It echoed all the way to the door, all the way to the taxi, filled her apartment's tiny space, became the soundtrack of her recurring dream: they stood facing each other, each a bird in a cage, waiting for the other to speak.
RANDALL BROWN teaches at Rosemont College's MFA in Creative Writing Program. He has been published widely, both online and in print, and blogs regularly at FlashFiction.Net. He is also the founder and managing editor of Matter Press and its Journal of Compressed Creative Arts.