Writer Amelia Gray participated in a collaboration with the Portland-based band Loch Lomond, in which a different author wrote a piece of fiction to accompany each track of the band's latest release, White Dresses.  The stories will be collected in an illustrated book that will be a companion to the album.  Here is the song she was assigned, followed by her contribution:
I hope you catch me
I'm a ticker tape parade
You did it kid you beat fun
Look up now you have won, won, won
Now we've got it
It's a moat made for two
More than almost, almost everyone
Yeah we are singing
Oh this fine and happy day
We borrowed cotton and spray painted drums
It's like swimming with a pocket full of gold
You won
You won
You won
("Spray Painted Drums"–Loch Lomond, White Dresses)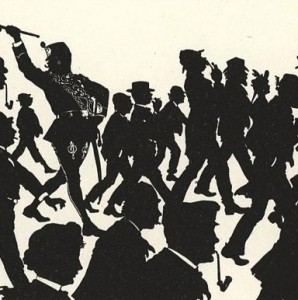 The parade went so well. We were tasked with saving the town and for all we care, it worked great. Three towns around us held ceremonies and wrote sprawling, gross musical numbers and basically begged the higher-ups to let them keep their charter and residents but we had the best idea of all, which was a parade, and would allow us to showcase our local culture or whatever while enjoying a sunny afternoon and involving: girls with glitter batons, the high school marching band, kids walking backwards, small cars driven by old men, trucks from the fire department, people rolling hula hoops, women wearing ankle weights, a line of math and science teachers from the high school, the youth choir followed by the adult choir followed by the children's choir, a float called Pets! that contained everyone's pets, a float called Hospice! that contained everyone from the hospice, nice guys eating great sandwiches, local government, regional government representatives, state government represented as cardboard cutouts, thoughtful flower arrangements carried by our mothers. If the deciding factor was to be which town had the most vibrant culture we surely won with the line of food carts walked by men of Guatemalan, Salvadorian, and Colombian decent, the food carts themselves emptied of their food and filled with t-shirts which the men tossed into the audience at intervals, each shirt reading YOU WON in block letters and received with such excitement that small fights broke out, nothing too violent, just a bunch of young adults feeling some serious pride for their town and a hope that they would get to keep going to school and enjoying government services for another year to come. And yeah the choirs were signing but it wasn't anything they had composed for the occasion but rather standards of popular music from various golden ages of popular music, chestnuts which had the crowd up and on their feet, feeling the noise, Oh Happy Day and Oh What a Night, with zero allusion to the serious nature of the task at hand, just a town full of people living vibrant lives—in fact the banner carried at the opening and end read JUST A TOWN FULL OF PEOPLE LIVING VIBRANT LIVES—women hauling garbage bags of ticker tape to their window ledges and dumping it over the crowd, half of the ticker tape handmade, cut from old evacuation notices before we learned that we could buy the stuff by the pound, the ticker tape, twenty bucks for metallic and ten for tissue, nice to have a mix of the two so that when the ladies turn over their bags some of the stuff hangs there in the air for a while like it's trying to figure out what comes next.
---
Amelia Gray is the author of AM/PM, Museum of the Weird, and THREATS. Her writing has appeared in Tin House, Poets & Writers, Lucky Peach, McSweeney's, and DIAGRAM, among others.
Loch Lomond is a band from the Pacific Northwest, named after the largest lake (by surface area) in Great Britain. They are signed to Chemikal Underground, Tender Loving Records, and Hush Records, bringing with them an artful, understated melodicism and songs redolent of early REM, the psych-folk musings of Mercury Rev, and the multi-instrumental fables of The Decemberists.