While the current crisis in Egypt makes the front pages of our papers on an almost-daily basis, the country's complex, hopeful, and conflicted revolutionary history has also been written in its fiction. This week at ASF, we're featuring two essays that explore the political climate and events that shaped region – through the filter of literature.
There was something slightly unsatisfying about the classes on the politics and history of the Middle East that I took as an undergraduate. Something about the texture of life? The truth beneath the truth? I couldn't articulate that feeling, but I picked up Naguib Mahfouz's The Cairo Trilogy, a dense family epic that spans the two world wars. I didn't put it down for two weeks, and when I swam back up for air, 900 pages later, I pulled out my laptop and looked up study abroad programs.
I kept reading Egyptian fiction as I studied at the American University in Cairo, in 2009, and then became a journalist and returned for a year in 2011. It's a constant feature of Egyptian literature to incorporate specific, real locations. With a few exceptions, nobody sets their scenes "somewhere in Cairo." They pick a neighborhood, a block, an alley, or a street corner. I'd read a story or novel set in an area, and then travel to it, and while I never knew exactly what I was looking for, fiction reshaped the way I understood my surroundings. It made reality feel more vibrant, like the feeling you'd have reading Faulkner and then driving through Mississippi.
But even if you haven't traveled to Egypt, and don't plan to, you can learn a vast amount beyond the headlines through Egyptian literature. Here's an introduction to some of the big names in translation, organized loosely by theme over the benchmarks of the last few years: the first protests, military rule, the elections, and the coup. Not all Egyptian fiction is political, of course, but in a country that has been roiled by upheaval for decades, many novels take political events as their starting point or background.
Early 2011: Revolution! Youth! Excitement!
The eighteen days of protests that initially led to Mubarak's fall are slowly transitioning from the terrain of recent news to history. Long past are the days where it was easy to imagine a crew of tech-savvy twenty-somethings organizing protests via Facebook and Twitter.  That was only two and a half years ago, and yet there is already nostalgia for the days of youthful, revolutionary zeal and a sense of limitless possibilities about the future of the country.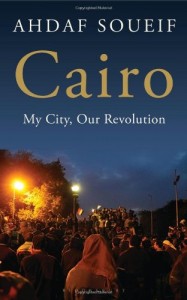 Those themes have been explored in the British-Egyptian novelist Ahdaf Soueif's breathless English-language memoir, Cairo: My City, Our Revolution, which was rushed out in time for the revolution's first anniversary. Soueif grieves over a city ravaged by decay under Mubarak's corruption. "She unraveled with bravado," she writes. "Every thread of that once tightly ordered pattern breaking loose: blue and green and red and black and every shade and texture, all sprung away from the tapestry, in disarray, tangled, knotted, vivid, sizzling, present."
Soueif's book can be read next to one that came out nearly sixty years before, Yusuf Idris' City of Love and Ashes. That novel is set right before the 1952 revolution, which kicked out the British and marked the first time in centuries that Egypt had been ruled by an Egyptian.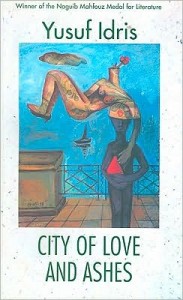 Idris bridges the gap between the subtle language of romance and the brazen language of revolt. A young man and woman, Hamza and Fawziya, fall in love against the backdrop of armed resistance and the desperation of anti-colonial violence.  When they meet in a tent hastily erected for young revolutionaries, Idris narrates, "Hamza stood up quickly, made room for her on the box, and stretched out his hand to greet her, and when he found it was covered in kerosene and rust he offered her his wrist to shake instead."
Late 2011: What Now?
 Gamel Abdel Nasser, who took over officially as President in 1954, experimented with socialism and turned Egypt into a modern state, and by the 1960's, the state bureaucracy — that grinding, inefficient, and mammoth set of institutions (depicted incisively in Sonallah Ibrahim's The Committee) — came to define much of day to day life in the country. It was hardly changed by the 2011 revolution, and as the months passed and Mubarak's appointees still ran the show, a lot of revolutionaries expressed frustration, disappointment, and disillusion.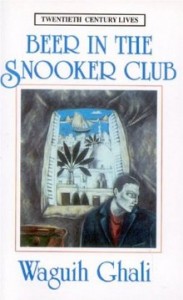 A version of that feeling is captured in Nobel Prize winner Naguib Mahfouz's Adrift on the Nile, a short and weird story about a group of young professionals who drink and smoke on a boat and celebrate their lack of ambition. You see a similar mood of being lost between generations, political transitions, and the push and pull of colonial and native cultures in the 1964 novel Beer in the Snooker Club by Waguih Ghali, who wrote only this one novel before his suicide. Ram and Font, two young men in Cairo, are poor, educated Europhiles, and we watch them deal with these contradictions as they travel, drink, fall in love, and play snooker. Ram's description of listening to the Islamic call to prayer, which comes five times a day throughout Cairo, encapsulates the novel's rootless confusion:
 I opened my eyes in the morning to the call of the faithful: a beautiful call, mingled with the rustle of a palm tree outside and the noise of Kharafallah putting tables out on the pavement downstairs. Even the shadows on the closed shutter seemed to play in harmony with the call. A beautiful call from a high steeple telling us all about 'No God but God' and who his prophet is. Does it matter who his prophet is? 'No God but a God' would be better, I thought, or just 'No God, no God', but in the same beautiful voice. And who is going to climb those stairs and give us a call if a revolution–a real one—takes place? No one. A sad thought. Yes, I sighed, a beautiful call which has never been described as anything but a 'wail' in the countries whose culture I've lapped up like a puppy.
That sense of intercultural awkwardness continued into the 1970's and 1980's, as Anwar Sadat shifted the country to Western markets and Western culture. A generation grew up with text messages, computers, televisions, and American junk food, just as it encountered popular Islamic self-help books that recalled their American Christian parallels.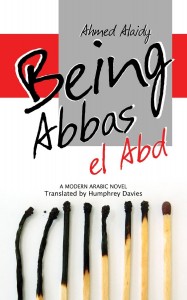 One novelist credited with first bringing this world to life is Ahmed Alaidy, who turns away from the formal register of most Arab fiction and chooses to write Being Abbas Al Abd (2003) in everyday, colloquial language (these two registers are far more different in the Arab world than in English, more akin to the divide between the contemporary American dialect and Shakespearean English). "What the narrator calls the 'I've-got-nothing-left-to-lose generation' and the 'autistic generation' is indifferent to the patriotic rhetoric that fueled its predecessors' erstwhile idealism, cynical about the political process, and disturbed by the ever-expanding gap between rich and poor" writes translator Humphrey Davies in his afterward. "It is a generation that looks first for its icons to American popular culture."
 Early 2012: Campaign Banners Everywhere You Look
We're talking, of course, about young Egyptians, and we should be: roughly 60% of the country is under 30. But Egypt is also a place where numerous generations interact, each carrying with them different social and cultural influences: the pre-Nasser colonial cosmopolitanism, the proud nationalism of the 1950's, the Americanization of the 1970's, the ambitions of political Islam.
The 2012 elections brought these social forces into sharper focus. All kinds of political movements once silent or barely whispering under Mubarak were now coalescing into official parties: the Muslim Brotherhood and the more hard-line Salafists, the secularists and socialists and capitalists and liberals, former army officers and former activists once imprisoned by those officers, all voicing their platforms on television, in print, and in popular rallies all over the country.
In addition to urban geography, another feature of much Egyptian fiction is the microcosm: a place where all of the different sectors of society come into contact, represented by individual characters. Mahfouz was the master of this, and you'll see it in The Cairo Trilogy, which maps different social forces between the two world wars onto an Egyptian family and their home, as well as in Midaq Alley.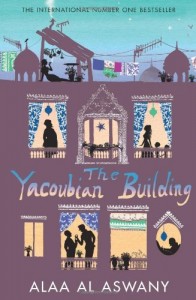 This approach to plot and character relationships was brought into the present by Khaled Al-Khamissi in his 2006 novel Taxi, a series of fictional monologues by taxi drivers in which the whole society can be seen from the backseat of a car. But the best-known of this sort, Alaa Al-Aswany's The Yacoubian Building, is a page-turner, with well-developed narratives of homosexuality, Islamic extremism, and bygone cosmopolitanism set among the inhabitants of a flat in downtown Cairo.
In Egypt, many novelists are public figures less for their fiction than for their political commentary. Ironically, when I lived in Egypt, I didn't meet a lot of Egyptians who had read The Yacoubian Building. I did meet many who had read Al Aswany's newspaper columns, which are collected into the powerful, probing collection On the State of Egypt. Al Aswany has Leonard Pitts' sense of social responsibility and facility with telling anecdotes, but his language —even in translation— is far more gorgeous and in touch with deeper themes, and makes the savvy jabs of Dowd, Brooks, and Friedman look embarrassingly unambitious.
 Late 2012, Early 2013: Brotherhood Rule
If there's a hole in Egyptian fiction, it is shaped like the Muslim Brotherhood. I've seen a subgenre of memoirs, some thoughtful and others tasteless, by former members of radical groups. But the core of the contemporary Brotherhood is technocratic, full of businessmen interested in consolidating power, maintaining organizational unity, and expanding their economic influence.
I have not been able to find works of translated Egyptian fiction that attempt to enter the collective culture of this group, which spent more than eight decades building its ranks and less than one year in a position of true power before failing and having that power snatched away. That's an arc ripe for narrative.
But Egyptian society's intricate and unresolved relationship to Islam has certainly been explored. Bahaa Taher, a former journalist who spent much of his life in Switzerland, was greeted with controversy when he first published Aunt Safiyya and the Monastery in 1991. Set against the 1967 war with Israel, the novel details a blood feud between Muslim families in a small Egyptian village that leads a young man to find sanctuary in a Coptic monastery. It may sound like a call for inter-religious unity, and in some ways it is, but it also calls for the country to unite against foreign aggressors.
 Mid-2013: The Coup
Uniting against outside enemies was the central idea that brought Nasser and his successors to power and sustained them through the last sixty years. Such is perhaps always the case when military leaders seek civilian power.
But what of the experience of these military men, who have shaped Egypt more than anyone else over the second half of the twentieth century? Over the last few years, we've only gotten glimpses, including Gamal Al Ghitani's early 1970s novel Zayni Barakat, set allegorically in the early 16th  century, and the fascinating diary of daily life by a young officer, published in The Guardian.
In Mohamed Mansi Qandil's Moon Over Samarqand, Ali, the son of an Egyptian military officer, travels to Uzbekistan in order to find out more about his father's past. In the fourth, final section of this long work — which could stand as a novella on its own — we read about Ali's youth, including his relationship with his father and his experience at a military training academy.
It's not a flattering picture. The generals hide their gin in tomato juice. A girl Ali loves has been raped by her military officer father (a scathing metaphor, perhaps, for the role of the military in Egyptian life). "They don't deserve us, Ali," she tells him. "They don't deserve the title of father. The only thing they deserve is their continual defeat."
Onward into History
If you read one book about Egypt, read Zaat, which Emily Smith will discuss later this week.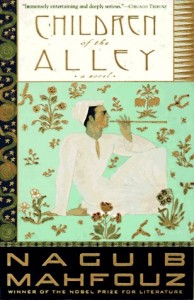 But if you read two books, continue with Children of the Alley by Naguib Mahfouz. In a fictionalized and decrepitly poor Egyptian alley over many generations, Mahfouz presents an allegorical retelling of religious history, with renamed versions of Adam, Moses, Jesus, Mohamed and a fifth, more mysterious prophet, all answering to a God-like mansion-owner named Gebelawi. Some are warlike, others gentle, and each spawns a small following among the alley dwellers.
The novel was originally published serially in the country's leading newspaper Al Ahram in 1959. It was met with protests and calls by Nasser — then the unquestioned dictator — to ban it. But Nasser's friend and advisor, Mohamed Heikal, was the Editor in Chief of Al Ahram, and he intervened to keep the serialization going. The novel was not published in Arabic until 1967. Mahfouz later said the novel did have direct political ambitions: "I wanted to ask the revolutionary leaders which path they wanted to choose: the prophets' or the thugs."
Mahfouz situates his country's unresolved relationship with its own history and power in a universal context, watching history become memory and interpretations change over long stretches of time. Egypt's problems are particular but not unique, and its tragedies are indebted to the same problems of memory as our own. "Good examples would not be wasted on our alley," the narrator tells us of his microcosm for Egypt and for the world, "were it not afflicted with forgetfulness."
---
Maurice Chammah is a journalist and musician from Austin, Texas. He lived in Egypt on a Fulbright fellowship 2011-12. More of his work is at http://www.mauricechammah.com.