'Tis the season: to ask for books and buy books with abandon. So, we've asked our ASF staff to share what books they're gifting to their friends and family, what books they want to be gifted, and what short story collections they think you should just go ahead and get for yourself.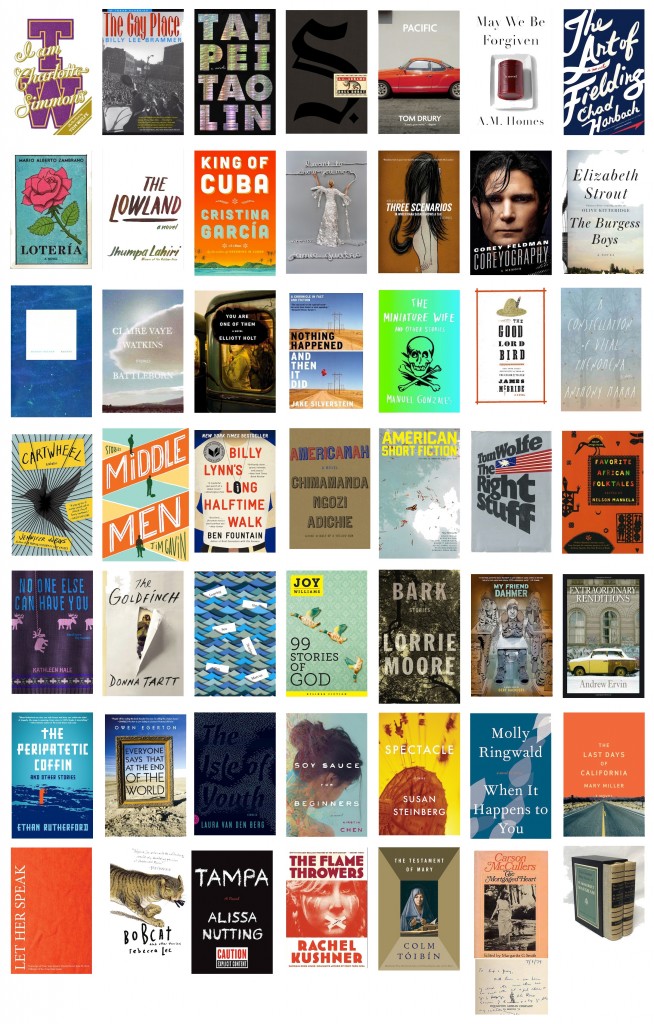 Andrew Bales
Give: With Maggie Nelson's Bluets, Wave Books has perfected the stocking stuffer. At 99 pages, it's an unassuming book—a faintly cosmic blue cover with a white square on the front—that could excite the space camp teen while not offending grandma. Its brief passages are numbered 1-240 and range in length from a few words to a couple of pages. They're in turn instructive, poignant, charming, and revelatory. There's a beauty to Nelson's thoughtful pacing, but if your uncle rips it open to passage 190 (which states simply: "What's past is past. One could leave it as it is, too."), he'll likely say, "Well, hell yeah," and maybe even lighten up after that satisfaction.
Get: When Tom Drury's Pacific came out, I was working at this great local shop called Watermark Books. On breaks, I'd enjoy a few pages at a time. What I loved from the start was how the humor is offset by strange, rich descriptions:
"And never, never get a credit card."
"How would I pay it back?"
"You wouldn't. That's the idea."
It was a cool night in May. The red sky shaded the grass and the shed and the house.
So please, get me a copy of Pacific to curl up with this winter.
Just Go Buy It: It's been a fantastic year for short stories, but I'm particularly excited about two debut collections. Jim Gavin's Middle Men is a series of nimble stories that are set in California and delivered with a generosity and wit that makes the characters immediately endearing. Likewise, the stories in Jamie Quatro's I Want to Show You More are sharp and, even while venturing into the fantastic, feel expertly controlled.
Maurice Chammah
Give: Tom Wolfe's I Am Charlotte Simmons examines the confused sexual life of college students who are too preoccupied with trying to parse out their relationships to enjoy the idyllic, and expensive liberal arts education their parents are paying for. It's a great gift for college students who may think their generation is misunderstood (Wolfe, the father of a college student, gets this generation as well as anybody). It's also a great gift for parents wanting (and cringing) to know what their kids will be doing when they return to school in the Spring.
Is someone in the family—Texan or not—obsessed with Wendy Davis? Already excited about the election a year away? Already binge-watched House of Cards? Get them a copy of the now-forgotten classic The Gay Place, by Billy Lee Brammer, which chronicles the heyday of liberal Austin in the 1950's in three gossipy political novels. The unifying character, a thinly disguised Lyndon Baines Johnson, is a shrewd political dealmaker all too familiar these days.
Get: Ever since I saw her speak at the Texas Book Festival, I've been meaning to read Cristina Garcia's novel King of Cuba. After several years of watching dictators fall in the Middle East, reading a fictional portrayal of one closer to home is something I'm looking forward to.
Just Go Buy It: As a journalist, I'm always interested in reporting written as if it were a short story or novel. But then I read Manuel Gonzales' new collection The Miniature Wife, in which several pieces of fiction masquerade as journalism. The moment you forget whether you are reading fact or fiction is an exciting one, and another collection that blurs the line cleverly is Nothing Happened, and Then It Did, by Texas Monthly editor Jake Silverstein. It's not new, but little could beg for timelessness better than Silverstein's subject: West Texas.
Rachel Howell
Give: For the literature lovers out there who swear by their e-readers, I wish I could weigh down their stockings with a hardback copy of Chad Harbach's The Art of Fielding. I devoured this book—all 528 pages—in a matter of days, toting it with me on vacation, hiding out with it under dripping Spanish Oaks, ever-aware of that bittersweet shift in gravity—when the weight of the pages that remain is less than the weight of those behind you. It's brilliant and beautiful, and if any new book should be read the old-fashioned way, it's this one.
Get: Ann Patchett became my literary hero when she opened Parnassus Books in Nashville, TN two years ago. (If you don't know the story, you can read it here). As it is for Patchett, Nashville is my hometown, and every time I visit, Parnassus is my first stop. Last month I picked up her new collection of essays, This is the Story of a Happy Marriage, which I'm loving so far, but I'm ashamed to admit I've yet to read any of her fiction. I hope that changes soon. I also have no idea how I've gone all year without reading Elizabeth's Strout's The Burgess Boys. I worked with Liz while getting my MFA, which was life-changing, but her novels are also life-changing (for a writer, anyway), so full of gorgeous, honest prose; I can't wait to read it.
Just Go Buy It: I really dug Molly Ringwald's novel-in-stories, When it Happens to You. In the first story, a mother and her young daughter are playing a bedtime game of "what if?" '"And what if I grew extra arms and legs, and they were furry like a spider, would you still love me then?' Charlotte asked. 'Yes, I would,' Greta answered, though there was really no need to. This wasn't a game about answers but about questions. How outrageous, unpleasant, and fearsome could we become and still be loved?" This soon becomes the central question of the book, most strikingly in a story about a six-year-old boy who believes he's a girl. It's stayed with me ever since.
Erin McReynolds
Give: A.M. Homes May We Be Forgiven—from sentence one it grabs you and doesn't let go for 500 pages. It's a smart, funny, and beautifully written reminder of what the outlandish-domestic-drama-as-sociopolitical-portrait can be when it's not written by a Jonathan.
Also, the literary equivalent of a late-night pepperoni Hot Pocket, Coreyography—if you miss the 80s as much as I do—but here's the thing, you have to get it as an audiobook because Corey Feldman does the most amazing impressions of Michael Jackson, Paul Rubens, Steven Spielberg, and company, and has a wonderful storytelling voice.
Get: Good Lord Bird—James McBride—Because people I trust are freaking the fuck out.
Just Go Buy It: Gryphon by Charles Baxter—just every time a story of his shows up in one of my magazines, it sends a wave through my body. Sometimes I cry uncontrollably, sometimes I get really angry, sometimes I get quiet for a few days. I'm just different after each one.
Rebecca Markovits
Give: My Christmas is always swimming in nephews and nieces, currently eight of them, ranging in age from two to ten.  I think this year I'll give them Nelson Mandela's Favorite African Folktales, which collects thirty-two magical stories from all over the African continent chosen by the great man himself.  Mandela writes in the foreword: "It is my wish that the voice of the storyteller will never die in Africa, that all children in the world may experience the wonder of books, and that they will never lose the capacity to enlarge their earthly dwelling place with the magic of stories." Yes, Sir.
Get: My good buddy Earl, a friend from my MFA program and an estimable writer with great taste, keeps raving about the works of Somerset Maugham to me, and I have to admit I've never read him.  So it's high time I curl up with a collection of his short stories on a cold winter night, and the price point for that is high enough to make this a wish-list item.  Also, I'm a bit late, but I keep meaning to read Colm Tóibín's The Testament of Mary.  It seems like an appropriate gift for the season, in a way, and Tóibín's The Master remains one of the best books I've read in the past decade, subtle and lovely, so I always look forward to reading his work.
Just Go Buy It: Not a story collection, but I read the excerpt of Jhumpa Lahiri's The Lowland when it was published in the New Yorker a few months ago, and I was moved and hooked.  I'm a big fan, and a sucker for sibling stories anyway, so I really need to go pick this up…
Alexander Lumans
Give: Anthony Marra's A Constellation of Vital Phenomena—I would give this specifically to my father because he's a history buff. But I'd also give this to anyone who has some weird crazing to learn about contemporary Russia (or in this case, Chechnya) and the bizarre post-USSR world of rural rebellions. Or I'd give it to anyone who wanted to cry. Ridiculously good writing for a debut novelist.
Get: Kirstin Chen's Soy Sauce for Beginners. Another debut novelist whose book doesn't technically come out until early January, but I'd be willing to accept an IOU and a bottle of soy sauce in my giftbox until it arrived. This is the kind of book that I know is going to change me, even before cracking the first page—not only because its story is of a flavor I don't often find myself writing or reading, but also because it's going to expose new, and probably obsession-grooming, worlds (who can say no to "artisanal soy sauces"?).
Just Go Buy It:  I dug: Andrew Ervin's Extraordinary Renditions. I'd been meaning to read it for years. Finally did. Was sorry I waited so long. Technically, it's three novellas, all loosely interlinked, all taking place in present-day Budapest. Ervin's delivery of each of the three distinct voices is, by itself, worth reading for. The fact that the novellas themselves are beautiful glimpses into Hungarian culture, classical music, American military installations, and homesickness is pure icing.
Asher Price
Give: Billy Lynn's Long Halftime Walk, by Ben Fountain, which came out in 2012, for that friend or relative who cares a lot about U.S. foreign policy but can't figure out what to say or think beyond what they hear from talking heads. The novel is about a squad of soldiers being feted back in the States after their exploits in Iraq.
Get: As someone who spends his working hours writing nonfiction—I'm a journalist—I love to spend my spare time reading fiction. Americanah, the novel by Chimamanda Adichie, is at the top of my list right now.
Just Go Buy It: My favorite short story collection of the year was Issue 56 of ASF!
Adeena Reitberger
Give: For friends who love books and want to be floored: the words inventive, daring, heartbreaking and poised do not even begin to describe Susan Steinberg's Spectacle. It's a must-read for writers and humans everywhere.
For friends who followed, live-tweeted, and cheered when Wendy Davis, with the help of the crowds inside the Texas State Capital, successfully filibustered SB5,  I recommend Let Her Speak, a transcript of the night published by Counterpath.
For friends you think need to learn a bit about patience, Mary Miller's forthcoming novel, The Last Days of California, which will be on shelves by the end of January, is wonderful enough that your compadres will wait for it, love it, forget you're passive aggressive, and then thank you.
Get: There are so many great books published this year I haven't read yet. If I had to make a list of five, I'd say: Robert Boswell's Tumbledown: A Novel, Anthony Marra's A Constellation of Vital Phenomena, Rebecca Lee's Bobcat and Other Stories, Alissa Nutting's Tampa, and Jennifer duBois' Cartwheel. (And I'm going to add Donna Tartt's The Goldfinch because if you're not working in oulipo, constraints are silly.)
Just Go Buy It: Earlier this year, while browsing for a friend's birthday gift at collectible bookstore, I came across a gorgeous salmon-colored hardback with a photograph of an adolescent Carson McCullers on the cover. She was wading ankle-deep in a river, and wearing (even at that young age), her classic, white-collared shirt. The volume, a first-edition copy of The Mortgaged Heart, is a gathering of many of McCullers' early and uncollected works, including an outline for The Heart Is a Lonely Hunter (formerly titled The Mute), as well as other stories, poems and essays. I'm not sure I can pinpoint the moment I decided to keep it for myself and buy this friend a copy of Rachel Kushner's The Flamethrowers instead. Thankfully, when picking up Kushner's novel, I had the foresight to buy two copies so I wouldn't be tempted to keep that gift, too. The lesson of the story: Do not pretend to buy these books as gifts. Just buy them for yourself!
Vincent Scarpa
Give: I'm so crazy about Elliott Holt and everything she does, and was chomping at the bit to get my hands on her novel, You Are One of Them earlier this year. I read it in one sitting. It's as compelling and tender and smart as I expected, and then some. It got some great press, but not nearly enough. Definitely one of my favorite reads of the year, and I plan on buying it for my father this holiday season. He's not a big reader, but I just know he'll love this one.
I also plan on pre-ordering Kathleen Hale's novel No One Else Can Have You for some friends who love smart, funny, Midwestern teen fiction as much as I do, and for a few cousins who are at the perfect age for this book. I was lucky enough to score an advanced copy a few months ago and couldn't put it down. Hale is hysterically funny and has created some truly memorable characters in this novel.
Get: The Goldfinch by Donna Tartt.  Because I feel so left out!
Just Go Buy It: Not sure if you can call it a short story collection, but I was a huge fan of Joy Williams's 99 Stories From God. I also really loved Leaving the Sea, the new Ben Marcus collection coming out in January. And, not to invite the jealousy of all Lorrie Moore worshippers, I'm  just crazy about her upcoming collection, Bark, which is stupid good.
Emily Smith
Give: For your moms or aunts or friends who like to read books that are also works of art: Loteria: A Novel, by Mario Alberto Zambrano. It's about a young girl who is in the custody of the state, unable to leave with her aunt until she reveals what happened to her family. She thumbs through a deck of loteria cards, a little like the Mexican version of Bingo, and each pretty image prompts a memory. It is funny, sweet, heartbreaking, and the short chapters make it quite the page turner.
For the young and hip: Taipei, by Tao Lin. It has such an interesting style and though it is difficult to imagine having sympathy for a spoiled, lazy, some-how-successful, drug-using hipster in Brooklyn, Lin pulls it off really well.
For anyone, but most specifically Texas-lovers, space fanatics, jocky-dudes, or dads: The Right Stuff, by Tom Wolfe. Amazing. Thrilling. Wow, maybe my favorite book ever. The prose is so intense, and the reporting Wolfe must have done to get all this stuff is just incredible.
Get: Not to be too trendy, but: S. by J.J. Abrams and Doug Dorst. The book itself is beautiful and so intricate, it is amazing that a mainstream publisher would produce something like this and only sell it for $35. I mean, there are hand drawn maps on napkins! And coffee-stained notes on legal paper! And weird, faded postcards!
Also: The Lowland, by Jhumpa Lahiri. Interpreter of Maladies was so lovely, and after reading a New Yorker interview  with Lahiri, I discovered how weird and interesting she is. She's writing her next book in Italian (!).
Just Go Buy It: Three Scenarios in Which Hana Sasaki Grows a Tail, by Kelly Luce [published by our friends and former ASF editors, Jill and Callie of A Strange Object].
Battleborn, by Claire Vaye Watkins. Watkins takes risks most young writers wouldn't try. Her stories are heartbreaking and strange and compelling, set in the mysterious landscape of the American West.
Jess Stoner
Give: My sister, who tends to stick to her preferred genre (romance, don't outright knock it, there's lots I love about it too) is getting Jennifer duBois' Cartwheel for Christmas. If only because I can't wait until she tells me she did the same thing as I did towards the end of the book: rush rush rush rush through the last pages, because she can't handle not knowing what happens. Plot, y'all.  Should be the new catchprahse.
Get: I have zero patience; if there's a book I want, I buy it when I want it.  That being said, I tend to save my end-of-the-year-pleas-for-books for the ones I can't read on my phone. That's how I got Building Stories last year, and how I'll hopefully see My Friend Dahmer under the tree this year.
Just Go Buy It: Laura van den Berg's Isle of Youth (love the way she veers from the initial external conflict  to the heart of the heart of the story) and Susan Steinberg's Spectacle (I don't ever want to talk about this book; I just want to ask, "Have you read it?" And when someone says, "Yes," I  want to have that quiet moment where I think: Yes, this book did everything to you too, didn't it?), and  Barrett Swanson's "Annie Radcliffe, You are Loved," in the newest issue of ASF.  All I'll say is, if you're at all intrigued, you might listen to me HAPPYSOBUGLY through the last few paragraphs (no spoilers, no worries).
Stacey Swann
Give: The perfect gift for the Austinite in your life: Everyone Says That at the End of the World by Owen Egerton. Egerton's novel has been described as a love letter to Austin, but since it also includes parallel universes, the apocalypse, and marauding nutria, there's heaps for non-Texans to enjoy too.
Get: I love story collections and yet somehow I still haven't read Claire Vaye Watkins's Battleborn. Over a dozen people have raved to me about it, so I know it must be amazing!
Just Go Buy It: One collection I did buy and wholeheartedly recommend is Ethan Rutherford's The Peripatetic Coffin. The title story still has one of my all time favorite openings: "The sound of iron walls adjusting to the underwater pressure around you was like the sound of improbability announcing itself: a broad, deep, awake-you-from-your-stupor kind of salvo. The first time we heard it we thought we were dead; the second time we heard it, we realized we were."