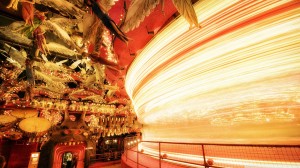 Dear Janice Gibbs,
Here is my submission to El Giraffe. "Gruesome Horrors to Whisper in the Dusk" is a series of soul-chilling tales containing beneficial lessons for students such as ourselves. I know that you have high expectations and exacting standards: after all, El Giraffe used to be two pages bound with staples, and now that you are Editor-In-Chief, it is fifteen pages bound with string. This year I bet people might start to like it, or even read it, especially if it has tales that glue people to their desks with suspense. Such as the first story in the Gruesome series: "The Ghost in the Wall."
A brief summary: a girl named Janice (her having the same name as you is purely of coincidence) moves into a new home with her family. At night, she hears this ghostly scratching in the wall. Her mom says, "It's just a rat honey, and on a totally unrelated note, did you know that the woman who used to live here died of poison oak rash? She scratched herself to death in a tub full of calamine lotion." That night Janice hears the scratching again, and when she wakes up there's a message carved into the wall: I'VE BEEN WATCHING YOU. Janice totally freaks, but her mom just accuses her of writing it herself for the sake of being weird. The next night, the scratching gets louder, and there's this faint smell of calamine lotion. In the morning, Janice summons all her courage and looks at the writing. The message: I'VE BEEN WATCHING YOU . . . I THINK THAT YOU ARE COOL!
MORAL: Sometimes a person you reject as a soul-devouring wraith may just be a potential friend who is watching you and thinking good things about you. Perhaps when this person offers you half of his sandwich when you are the only two people on the bus, you should take it and thank him for his generosity, instead of tossing back your hair and looking out the window.
Anyways, that's the story. I thought you might want a summary before reading the following thirty-page version.
Most Sincerely,
Cody Splunk
 * * *
Student:
Thank you for your submission to EL GIRAFFE. Unfortunately, it does not meet our editorial needs at this time. We encourage you to keep our magazine in mind in the future, or an even better idea is that you look into a different hobby, such as sports.
Sincerely,
The Editors
* * *
Dear Janice Gibbs,
I was so nervous when I found the El Giraffe envelope in my locker that I handed it to my best friend, Andy Lopez. He frowned while reading it, then shoved it in the garbage can and said, "That Janice is a bitch." Janice, I want you know that even though Andy Lopez is my best friend, he does not speak for me. I do not think you are a bitch. I just think you have a lot of personality, and that The Sir overreacted to that scissors fight in the bathroom. How were you supposed to know how much that chick's face would bleed? And it's not like you were even dating her boyfriend that long, probably because you realized that he is an asshole and you would be better off with someone who has a more sensitive personality and fewer STDs. The whole situation reminds me of your poem in the last edition of El Giraffe, the one called, "Tears of Blood." Some of the lines spoke to me a lot, like: "I had a dream/ and you were there/ you gave me a rose/ I did not care," and, "I plucked one petal from that flower/ You were no longer in my power/ With each petal, a drop of blood/ Added to the swelling flood." I think the flood represents Jesus. Anyways, I know that you have been kicked off the El Giraffe staff because of your suspension, but I think this is an injustice because you should still be editor, and I will continue sending my stories to you as a form of protest.
This one is called, "The Yellow Fannypack." It is about a girl who constantly sports a yellow fannypack. Every day her best friend is all: "Why not remove that luminous yellow fannypack?" And she's all: "Sentimental value." Then they grow up and he proposes and they get married. On their wedding night, he's all: "If you love me, you'll finally take off that godforsaken yellow fannypack." "Fine," she says. "If that's what you want." She takes off the fannypack. And HER TORSO FALLS OFF!
In Solidarity,
Cody Splunk
* * *
Hi Cody,
Thanks for the note. Not to disillusion you, but I kind of am a bitch. It's nice of you to boycott El Giraffe in my honor, but if you ask yourself, "Is it worth it? Will it make a difference?", the answer is probably, "No." So, really. The next time you write a story about a passive-aggressive corpse, send it to them. Not me.
Janice
 * * *
Dear Janice,
They say that when an editor writes you back a personalized note instead of a photocopied rejection slip, it is a great honor. So, thank you for honoring me. And thanks for encouraging me to keep sending my work to El Giraffe. Big news: they are going to publish my story!!! Well, three paragraphs of it. Your replacement, Julie Chang, likes the part which lyrically describes the girl's hair as a river of light through which the boy goes scuba diving.
This triumph is bittersweet. On one hand, I am achieving my dream of publication. But it would mean so much more to me if it was you who had chosen my story. Everyone knows that Julie Chang has low standards, and that she is only on the El Giraffe Staff so she can list it on her college applications.
Also, you were only suspended for a week, so I was wondering why you are still not back at school. We miss you!
Your Friend,
Cody
* * *
Dear Cody,
It creeps me out that you know where I live, because how else could your letter have gotten into my mailbox? Have you been following me? And have you been wearing a hooded cloak while doing so?
Turns out it wasn't the poor quality of El Giraffe submissions that made me throw up every morning, but instead the fact that I am pregnant. Impressive, right? That Danny Ramirez managed to knock up two girls before dropping out to work at the mattress factory? There's even a rumor going around that he got that retarded chick pregnant. She can't really talk though, so they're not sure.
The Holy Mother would disapprove, but I am praying for miscarriage. Do those magic books give you any spells for getting un-impregnated? Do you know about any mushrooms or herbs you can gather? Maybe you can build a time machine. Kidding! I am getting kind of desperate though. I can't go back to school. I feel like I am losing my mind.
Janice
* * *
Dear Janice,
I am honored that you would enlist my assistance in resolving your plight. In terms of time-machine building materials, I have a broken radio, three hard drives I salvaged from the dump, unlimited wire, and a power drill. This is unfortunate, because according to science I need a wormhole situated next to a neutron star. Even if I enlisted my brother Greebo's welding skills, we would be out of luck.
Still, I got to thinking. If I could actually make you a time machine, it would be very dangerous. One miscalculation, and you'd get sucked into a black hole. Also, what if you were able to go back in time, say, a year? What would you do? Appear to your past self and say: "Staaaay Awaaaay Frommmm Daaaannnnnyyyyyy"? Kill him? And wouldn't you already have a memory of it happening? Anyways, as a matter of chivalry, I would insist on being the one to do the time traveling. But if I appeared to you a year ago and told you not to date Danny, I don't think you would listen. I tried to talk to you all the time last year, and you acted like you didn't hear me. You didn't even notice when I left a box of Girl Scout cookies on your desk on Valentine's Day. You just left them there, and Mrs. Simmons ate them.
In the meantime, I think you should come back to school. I won't tell anyone you're pregnant. And if you're serious about not being pregnant anymore, I can borrow Greebo's car and drive you to Planned Parenthood. It would not be a problem at all.
Your Friend,
Cody
P.S. And I'll keep working on the time machine! 
* * * 
Yo, Cody—
That is really sweet of you to offer to drive me to Planned Parenthood. I would appreciate that.
Does next Friday work for you? You would have to skip school, but I figure you're smart enough to miss one day.
Your Friend,
Janice
* * *
Hey Janice—
Friday's totally fine. I have a physics test, but Mrs. Rivas likes me a lot, so I'm sure she'll let me re-take it on Monday.
Wow! I can't believe that in just one week, we have a date! Exciting! I'll keep working on the time machine though, just in case.
: )  Cody
* * *
Cody, you blockhead:
Driving someone to get an abortion is not a DATE.
Alright?
Janice
* * *
Dear Janice,
Of course I only meant date as in, like, calendar-appointment. Poor word choice on my part! It's just I have just been so distracted with this time machine business—today I calibrated the radio to intercept a signal from back in time. For 52 seconds, it was working. Then I realized it was just the oldies station.
Aware of appropriate boundaries,
Cody
* * *
Hey Dumbfuck—
How retarded do you think I am? Granted, when you showed up at my window at 3:00AM this morning, waving your arms and saying you were my unborn child, time travelling from the year 2026, sent to tell me not to terminate you because you turned out really fun and cool, there was a glint of a moment where I was like, wait! For real? Then I noticed that in an attempt to look futuristic, you had taped tinfoil to your sweatpants. God, Cody. If you don't think I should go through with this, how bout you don't offer to drive me to the clinic. I'll take the fucking bus.
 * * *
Dear Janice,
Okay, I'm really sorry I attempted to deceive you. It's just I told my older sister I needed Greebo's car so I could offer you taxi service on Friday, and she said that she got rid of a baby her Sophomore year. That was when she got really depressed and grew her hair down over her face and dropped out to work at the chicken shack. I didn't want that to happen to you.
I'll still drive you if you want.
Sorry,
Cody
* * *
Dear Janice,
I understand why you didn't reply to my last letter. Still, it's good to see you back in school. Also, the gossip on the yearbook staff is that after a brief power struggle, you regained your rightful standing as Editor-in-Chief of El Giraffe. I was so glad to hear that. I saw you laughing at lunchtime, sitting at the back table with your friends. I guess you went ahead and took care of your problem. I'm glad to see you're not all depressed. You are a good person. I want you to be happy.
Your friend,
Cody
* * *
Dear Janice,
Okay, I get the picture. You didn't have to give me back all my letters. They were yours to keep.
I don't know why I'm even sending this,
Cody
* * *
Dear Janice,
It was really unnecessary to have The Sir sit me down for a conversation about stalking. In fact, it was mean. You know, he was going to write me a scholarship recommendation letter for college. What's he going to say now? "Cody is a kind person and very bright in science, math, and writing, but like everyone he has his flaws, such as being a stalker?"
My last letter EVER!
Cody
* * *
Dear El Giraffe editors,
This is an anonymous submission, entitled, "The Wormhole."
Signed,
Anonymous
The Wormhole
Once upon a time there was a boy who loved a girl who did not love him back. The boy did his best to woo her, with words and chivalrous deeds. In these attempts he was overzealous—he alienated the girl entirely, and she refused to look upon his face.
The boy wanted a do-over, so he got a job as the night janitor at NASA. He studied the stars, mapping the sky, searching for black holes and neutron stars. After years of calculation, he re-programmed NASA's most promising spaceship, and shot himself towards the black hole at the center of our galaxy. A wormhole spat him out, and his spaceship splashed into the ocean. After floating in an escape pod for several days, he was hauled aboard a freighter ship. "What year is it?" he demanded. "2072," a tattooed sailor said.
It was the same year he'd left. I may as well jump back into the ocean, he thought. What the old man didn't realize was that his calculations were mistaken. Instead of sending him back in time, the wormhole sent him to a parallel universe. As fate would have it, this was the universe in which the girl loved him back.
When the ship got to shore, the old man realized he was not, in fact, in his own world. So he tracked down his parallel universe self. His doppelganger was sitting on a porch swing in Montana, holding hands with the girl, who had been his wife for fifty years. They were drinking lemonade and watching their grandchildren play in the yard. The old man stood in the cornfields, absorbing the family happiness of his twin.
He considered murdering his doppelganger and slipping into his place. He could play tiddlywinks with his grandchildren; sleep each night next to the woman he loved. It would be easy. He'd dig a deep hole. Bonk his second self on the head with a shovel. Steal his clothes. Push the body into the pit, shovel dirt on his face.
No, the old man thought. He turned, and wandered out toward the open road. It is enough to know that among the infinity of universes, one contained for me a chance at love.
---
Kathleen Founds has worked at a nursing home, a phone bank, a South Texas middle school, and a Midwestern technical college specializing in truck-driving certificates. She got her undergraduate degree at Stanford and her MFA at Syracuse. She teaches social justice themed English classes at Cabrillo College and lives in Marina, California, where she writes while her toddler is napping. Her fiction has been published in The Sun, Epiphany, Booth Journal, The MacGuffin, and Stanford Alumni Magazine. Her novel-in-stories, When Mystical Creatures Attack! won the 2014 John Simmons Short Fiction Award and will be published by University of Iowa Press in October. Her comics, children's books, and beer-label designs can be found at kathleenfounds.com.