I first met Marie-Helene Bertino last summer, when she was my workshop instructor at the One Story Workshop for Writers. In person, she is meticulous, charming, and bright. And her writing is the same.
Her short story, "Carry Me Home, Sisters of Saint Joseph," was first published in Issue 47 of American Short Fiction. Her second book, 2 A.M. at The Cat's Pajamas, will be published this August by Crown. Set in Philadelphia, the novel takes place over the course of a single day—Christmas Eve Eve—but follows the paths of several distinct characters: the owner of a jazz club, an elementary school teacher, a little girl who dreams of becoming a famous singer, and more.
I had the pleasure of discussing the novel and her writing process with Marie over email.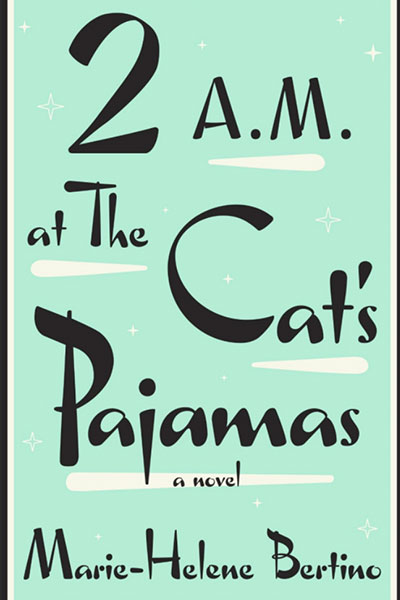 ES: 2 A.M at the Cat's Pajamas is a beautiful web of characters and collision of fates. So much of the plot seems to rely on coincidence, yet the events never feel forced or contrived. Something magical is happening on this Christmas Eve Eve. What was your process like when figuring out how to write this?
MHB: Thank you! You're right about the coincidence at play in the book—it's there, in mild form, but the book is aware of it and not about coincidence. My process began with two characters, Madeleine and Lorca, and as I "followed" them through their day, I realized I was also interested in the people they were passing by. So, I would dip into their heads. The bodega owner, the principal, the dog. And this was great fun. And the tone and voice began to grow from this meandering point of view, until Philadelphia itself began to advance its opinion. I was like, I can't have a dog's point of view, can I? And I knew I was on the right track.
ES: It is so exciting to meet a "new" character in the book, then to find that you've already seen him or her in another scene from someone else's point of view. On the one hand, seeing the personal side of these secondary characters is quite touching; as a reader, I realized that there are many stories at play in this world, not just those of the protagonists. (Of course this is always the case, in literature and in life, but rarely do I find it brought to the surface in such a direct and powerful way as you've done here.) On the other hand, this convergence of characters gave me the impression that Philadelphia is really just a small town transposed upon the big, industrial grid of a city. Not only are all of the characters just a few degrees of separation away from each other, but they also seem to observe the same events, to pass by the same landmarks, to hear the same sounds and to smell the same smells. Do you think of your hometown this way? 
MHB: One of my professors talked about "flat characters" this way: that they are all heroes of a different story. That idea stuck a hook in me I carried around for many years. He said that so we would paint them with complex colors, not so we would one day write a book that features its "flat characters" so predominantly, yet there it is. Philadelphia definitely holds within it coincidences, brutality, grit, and the shared experiences more commonly associated with a smaller town. We all know each other, kind of. We keep a running list in our heads of who is from Philadelphia (Hall and Oates, Bradley Cooper, Will Smith). Like Sonny says, "There are only two kinds of people in Philadelphia—those who know each other, and those who haven't figured out yet how they know each other." It's a city of storytellers. You can't sit for longer than five minutes anywhere in Philly without someone sidling up next to you and telling some cockamamie story that may or may not include the speaker doing something illegal. I was never good at that kind of storytelling, but I was good at listening.
ES: When you were writing the novel, did you find yourself doing a lot of research by listening? Or, was Philadelphia and its tradition of storytelling so familiar that the characters and plot almost came naturally to you?
MHB: It was the "voice" of Philadelphia that wouldn't let me go! There were weeks, months, years (!) when I shelved the book and moved on to stories and another novel, and it was the characters I kept thinking about. Like they had done something wrong, and I had to put them in the corner for a while, like impudent children. Later, I'd think: But I do really like them. Maybe I should go back and see how they are.
ES: Philadelphia certainly takes on a distinct voice in the book, as well as a distinct character. I'll confess that I am generally skeptical when people say something like, "the city isn't just the setting of the story, but it's a character in the story as well." In 2 A.M., however, I was fully convinced! I felt like I was getting to know the city as one gets to know a character, that I was watching it breathe and change throughout the night. At the same time, I felt that I was very much there, in the city itself. Did you intend to characterize Philadelphia? Or, do you think that the processes of writing strong characters and settings aren't all that different? 
MHB: I would be skeptical, too. In fact, if someone told me they made Philadelphia into a character in a book, I would think: I don't think I want to read that book. And then I'd ask them what part of Philly they were from, and play the, "Do you know so and so" game for a ridiculously long time. I wouldn't go so far as to say the city is a character in the book, THANK GOD. But I would say the city's personality influences the characters. In the way that the sea advances the characters in in a Fellini movie, or the movie "Big Night." It's present, it's not neutral, but it's subtle. It's a city with a chip on its shoulder, that likes to keep its buildings low to the ground, metaphorically and literally, and I think that comes through in the struggles of Madeleine, Sarina, and Lorca.
ES: Tell me about your narrator. It isn't all that common, I think, to find a truly omniscient narrator in contemporary fiction. Throughout the book, you zoom in and out of the inner thoughts of the characters, but in general, the narrative voice is consistent. What was your motivation for doing this as opposed to, say, jumping from one character's idiosyncratic voice to another?

MHB: The omniscient third had to be relatively steady otherwise the reader's minds would get too crowded, hell, my mind would have gotten too crowded! Good gravy, I can't imagine what it would sound like to jump from one voice to another. That would create a traffic jam of nutty accents and would clog the momentum. Omniscient third doesn't seem to be used very much. It grew out of experimentation I did when I was stuck—years ago the book was told from only Lorca's point of view. I also liked the idea that a book about one singular voice could, in essence, give everyone a voice. When things click on the metaphorical and literal levels, I'm off to the races!
ES: Speaking of both metaphorical and literal levels, there are two scenes in the book when the normal laws of the universe do not apply. Why did you chose to limit the use of "enhanced realism" (to use your term) to these two particular moments when Madeline sings to those she loves? 
MHB: Yes! I was very aware of placing those two moments. In my mind, the first, smaller one is meant to jostle the reader, so that they are aware something strange is afoot, that maybe they are not in a story where everything obeys the laws of physics. By the time the second, more substantial moment occurs, the reader has probably forgotten the first, or perhaps shrugged it off as an aberration. However I begin to plant seeds for the second moment from the time we meet Madeleine's guardian, the overworked Mrs. Santiago. They are both necessary—the first acts as an appliqué to the second one's fabric, or a sign post, if you will, that reads: ALL IS NOT AS IT SEEMS.
ES:  Your first book, Safe as Houses, won the Iowa Short Fiction Award and was published by the University of Iowa Press. What were some differences between that experience and publishing this novel through Crown? 
MHB: I am inordinately lucky that SAFE AS HOUSES was published through the vehicle of The Iowa Short Fiction prize. It allowed me to enter the publishing industry in a way that felt intimate, that allowed me to be in creative control at every level, and did not overwhelm me. I was able to observe and "take notes" on the industry from a safe and well-respected perch of The Iowa Press. So I was able to know the kind of writer I wanted to be when, lo and behold, my novel went to auction and was acquired by Crown. One of the loveliest parts of this experience has been the opportunity to work with a professional editor, the smart and savvy Alexis Washam. Alexis guided me through the relatively bigger launch of The Cat's Pajamas, not only on the page but in life, and I feel tremendously grateful to have her and Crown in my corner.
ES: I'm curious about the pacing of the novel: You include a lot of background information and key flashbacks for some of the characters, but, for the most part, the reader is immersed in the present hour or minute. This timing reminds me much more of a short story than it does a novel (particularly those that delve into a thick description of memories that are conjured by the smell of a particular cigarette or pie baking in the oven), and I found that it built in a kind of momentum and suspense throughout the book. Did you start off with this quick pace in mind? Or was it something that came later, as the book evolved into its final form? 
MHB: I like the idea of the pace belonging more to a short story than a novel. I don't think I'm the kind of writer who would do the ol', "The smell of pies baking in the cellar always reminded her of winters with Bellingham, a former acquaintance of her mother's, who was as tall as he was mean," no matter what I was writing. Poor Bellingham! What was with that guy?
I started writing with this loose rule: no flashbacks! In a story about one day there should only be forward momentum! Then, as the process continued, I changed it to: only one flashback! And then: one flashback per story line and that's it! I mean it! In the end I'm glad I carefully placed three very succinct flashbacks into an already flowing story, rather than let myself flashback at leisure. In this way, it kept me focused on the pace and meant that those flashbacks I did allow were important. I've now written the word flashback so much I've forgotten what it means. Perhaps this is because of the smell of pies and that scoundrel Bellingham…
---
Marie-Helene Bertino's debut novel, 2 A.M. at The Cat's Pajamas, a Barnes & Noble Fall '14 Discover Great New Writers pick, will be published in August 5th, 2014. Her debut collection of short stories, Safe as Houses, received The 2012 Iowa Short Fiction Award and The Pushcart Prize. She was an Emerging Writers Fellow at New York City's Center for Fiction and lives in Brooklyn, where she was the Associate Editor for One Story.  She teaches at NYU, The Institute for American Indian Arts M.F.A. program, The Center for Fiction, and The Sackett Street Workshops.  For more information, visit www.mariehelenebertino.com.
Emily Smith is a writer living in Austin, Texas. She is an MFA student at Texas State University, an Assistant Editor at American Short Fiction, and teaches writing to kids with Austin Bat Cave.