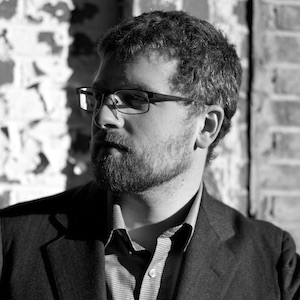 Lincoln Michel's "The Supervillain Stalled in His Lair" kicks off our 2015 web exclusive fiction, and it's a lovely and bizarre look at the placid, boring world through the eyes of an ambitious and anxiety-rattled super villain named, uh, the Supervillain. As satires go, this one's less send-up than human interest piece. Told from the point of view of an admittedly diabolical (but amazingly amiable) malefactor, the story's  part of a novel that Michel's calling DOOM MOOD. We emailed the author to ask about the story, his forthcoming collection of short fiction, and about the novel-in-progress that started with this germ (and gem) of a short story.
Nate Brown: In "The Supervillain Stalled in His Lair" you strike a balance between the big, hyperbolic stakes of good vs. evil while also capturing the everyday angst of the best office comedies. This mix of the extraordinary and the banal is pitch-perfect. Did you write this with the intention of striking that balance, or did it come during the writing process itself?
Lincoln Michel: The idea of a comically (uh, pun intended) evil character who treats diabolical schemes in the same way a neurotic writer obsesses about his Facebook status updates and freelance pitches seemed funny. That was my initial idea for the piece, so it was there from the start. I think there's also something interesting about mixing dictions—in this case the alliterative, bombastic words of superhero comics with a kind of anxiety-driven and digressive maximalist prose—that I wanted to explore. Mostly, though, I think I just thought it would be fun to write and hopefully fun to read. "Fun" and "funny" are things the MFA lit world seems to fear sometimes, but most of my favorite writers from Kafka to Shirley Jackson are both.
NB: Agreed. And some people—Sam Lipsyte, say, or Junot Díaz or Karen Russell—just nail their comedic moments. Are there other writers who you think are writing funny in a particularly good or interesting way?
LM: Certainly those three are great. George Saunders is obviously hilarious. Lyda Davis's stories can have the tightness of one-liners. I actually think that studying the syntax and pacing of comedians can be really insightful for writers, even those who aren't trying to be funny.
NB: Superheroes have long been a part of the American mythos, but in this piece, you turn the narrative on its head a bit and depict not the hero, but the surprisingly reasonable Supervillain. He's vain, sure, and he's got some insecurities, but in both your dialogue and those long, meandering interior moments, he seems more or less like the rest of us—just a dude trying his best to achieve his goals. Where'd this character come from?
LM: Monsters and villains—in fiction at least—are always more interesting to me than heroes and good guys. I'm the type who always played the aliens and orcs in games as a kid. (Honestly, I kind of distrust anyone who grew up playing the paladin.) Plus, villains actually have desires and schemes. They are active, not reactive. That's a more interesting starting point for a story, especially if you are trying to humanize a character.
NB: Right. A superhero is usually just waiting around for shit to go wrong so that he can save the world. There's actually not much agency in that.
LM: Who reads Superman to learn about what's new in Clark Kent's life? You read to see what crazy scheme Lex Luthor, Bizarro, or Brainiac have cooked up.
NB: I love the title of the novel-in-progress DOOM MOOD. Without giving too much away, can you tell us a bit about the project? Is the Supervillain the protagonist?
LM: Thanks! I wrote "The Supervillain Stalled in His Lair" before I had the idea of turning it into a novel. The Supervillain is pretty much the protagonist, but the narrative POV shifts around between a dozen comic book stock characters—who have been hopefully transformed in interesting ways. Here are the names of some other characters in the book: Superhero Boy, The Mole Master, The Observer, Henchman #2, The Commissioner, Professor Improbable, The Superhero-Things, and Jack Bizarre, M.D.
NB: Okay, I still don't want you to feel like you're giving too much away, but this is such a tease! The Mole Master? Jack Bizarre, M.D.? Tell us more!
LM: Jack Bizarre, M.D. is just a quick joke about Doctor Strange-type characters, but the Mole Master is a central character. I'm not sure what I can say about him. He lives underground and has a lot of resentment. He cries a lot. At one point, he is transformed into Mega Mole Mound.
NB: You've got a forthcoming collection, Upright Beasts, from Coffee House Press. How'd that collection come together, and how does "The Supervillain Stalled in His Lair" stack up against the stories in the collection?
LM: Oh man, I could—and probably will—write a few essays on the difficulties of cobbling together a collection. I've been publishing for about a decade—and typing that makes me feel very sad and old—so I had a lot of stories to choose from and the collection went through a ton of iterations. It was a chaotic process. I'm not sure how the collection overall stacks up to this story. I think the writing is very different, more minimalist and far less interior digression. However, there's a similar mixing of genre and literary, absurd and existential, and fun and depressing throughout.
NB: Full disclosure: I lived in New York ten years ago and remember you from various readings and events, so I feel plenty old myself. In the intervening decade, though, you've published well and have also taken on the role of co-editor at Gigantic and are the online editor at Electric Literature. How do you balance being both a promoter of writers and writing and being a writer yourself? 
LM: Well, I'm not sure how well I'm balancing it these days to be honest. I co-founded Gigantic in 2008 and joined Electric Literature last year. I do love fiction and literature, so am happy to be in a position to promote some at both places. Writing—or any art form—is always going to be an awkward balance with other obligations, whether it's editing, criticism, family, or screwing around online. Balancing with editing is hard, but not necessarily any harder than Twitter or binge watching TV.
NB: Fair enough. Thanks for talking with us, Lincoln, and for kicking off our 2015 with such wonderful story. 
LM: Thank you!
Lincoln Michel is the online editor of Electric Literature and the coeditor of Gigantic. His work appears in Tin House, NOON, The Believer, The Pushcart Prize Anthology, and elsewhere. His debut collection, Upright Beasts, is forthcoming from Coffee House Press. "The Supervillain Stalled in His Lair" is part of a novel-in-progress tentatively titled DOOM MOOD. He tweets @thelincoln.