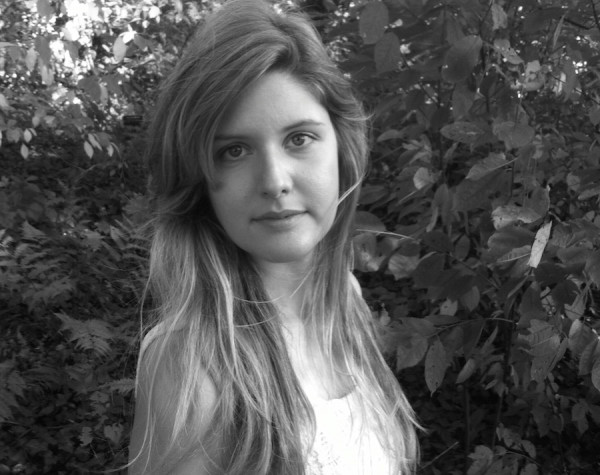 June's online exclusive, "The Tobacconist [1]" by Anna Noyes depicts longing so convincingly that it's difficult to pass judgment on the story's conflicted, suffering protagonist, George. It seemed to us that the magic of the story was that it depicted complication and ambivalence so tenderly. We emailed Noyes to ask about writing conflicted characters, about her taste in short-short fiction, and about her debut collection of stories, which is due out next year.  
Nate Brown: There's so much longing in this piece. I came away feeling so sad for George, though I'm not sure that's the right reaction. Can you tell us where this piece came from and what you think and feel about George and his situation?
Anna Noyes: George lives in a world where his desires and potential identity are smothered. I find sadness also in the fragility of his bond with his wife and son. When the story hints towards tarnishing the tenderness George feels for his family ("he had not yet begun to think of his son's mind as mediocre") the stakes feel very high. He's pining for another life, but he's also contemplating exile from his closest circle, and the damage that kind of exile might do to the heart. The fantasy-life he's not allowed to live promises not only freedom and joy but physical and emotional violence. I think there's a kind of comfort and sweetness in withdrawing from his fantasy to return home, even though to stay with his family may do different, perhaps irreparable, damage. He's genuinely trapped between a fantasy he can't live, and a reality he can't live. That last line ("To have a boy and a wife was a gift. What an incredible, incredible gift") seemed to me both sincere and troubling.
NB: George has this aching desire, but it's also clear that he loves his wife and son. Both of those things exist within him and I'm wondering if each of us feels that sort of ambivalence in our lives from time to time and if that's why we can ultimately empathize with George.
AN: Yes, I certainly relate. I wrote this piece at a time when I felt ambivalent in my own life and big change seemed imminent, though I couldn't know if that change would lead to growth or devastation. A lot of my favorite fiction deals with this ambivalence—characters whose ordinary, nice-seeming lives are threatened or disrupted by the desires of their secret-selves. Two novels I'm reading now that tackle this beautifully are Nobody Is Ever Missing [2] by Catherine Lacey [3] and Outline [4] by Rachel Cusk. Outline's narrator articulates longing and ambivalence sharply: "I felt I could swim for miles, out into the ocean: a desire for freedom, an impulse to move, tugged at me as though it were a thread fastened to my chest. It was an impulse I knew well, and I had learned that it was not the summons from a larger world I used to believe it to be. It was simply a desire to escape from what I had." There's something so seductive and pleasurable in the fantasy of the life-not-lived and the freedom it promises, though there's always the risk that it's an illusory promise, perhaps even a self-destructive one. It's very poignant to me when characters—in a need for freedom, momentum, self-actualization—risk becoming unrecognizable and unlovable to those who recognize and love them.
NB: Is that something you examine in your other work?  Your debut story collection is going to come out in the spring of 2016. Can you tell us a bit about how "The Tobacconist" compares to the stories in your collection?
AN: The stories in the collection revolve around women and girls who risk exile—from their communities, their families, their social positions, their familiar selves. The catalysts that put them at risk differ, but in each story a character is introduced at a pivotal moment of transition, when it is unclear whether they will be able to continue living as the person they once were—daughter, wife, mother, friend. I can't stop exploring that border between belonging and banishment, or self-banishment. Sometimes the characters cross it actively (fleeing their lives, usually in a moving vehicle!) and sometimes it's a quieter struggle, as in George's case.
NB: I frequently ask writers to tell me who they're reading, but it occurred to me recently that I rarely ask specifically about really short work. Are their authors who you look to as models (or who you simply enjoy) who are writing great pieces of flash fiction?
I love Amy Hempel's shorter work, and The Collected Stories of Lydia Davis [5]. Davis can devastate with a single sentence, as in her piece titled "Suddenly Afraid":
because she couldn't write the name of what she was: a wa wam owm owamn womn
Years ago my friends and I would read aloud to each other from Micro Fiction: An Anthology of Fifty Really Short Stories [6] and Sudden Fiction International [7]. These anthologies were my first exposure to many greats: Joyce Carol Oates, Jorge Luis Borges, Padgett Powell, Ron Carlson, Italo Calvino. The stories are all wildly different. Two that haunt, in particular, are "Snow" by Ann Beattie and "Happy Endings" by Margaret Atwood. Though I don't model on anyone in particular, I find flash fiction in general is an excellent teacher of compression, honoring the singular moment, and trusting the reader to pick up on what is left unsaid.
Anna Noyes is a graduate of the Iowa Writers' Workshop, where she received the Henfield Prize for Fiction. Her stories have appeared in Guernica, VICE, A Public Space, and elsewhere. She has served as writer-in-residence at the James Merrill House, and is a 2015 Aspen Words Emerging Writer Fellow. Her short story collection, Goodnight, Beautiful Women, is forthcoming from Grove Atlantic in 2016.