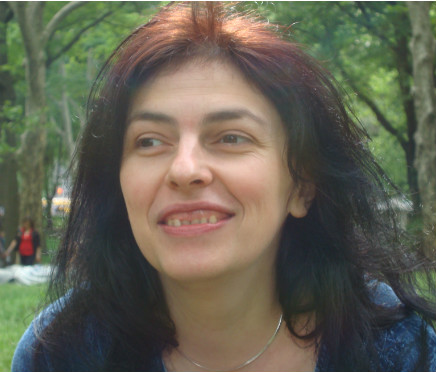 Sofi Stambo's "Ships" presents a vivid summer break on the Black Sea during which a young, unnamed protagonist pines for the son of the Tomov family, which is headed by a sea captain who lives across the street from her grandparents. It's a story so precise in its sensory details that it feels deeply familiar—and even nostalgic—in spite of its Bulgarian setting. We emailed Stambo recently to ask about those details, about Bulgaria during the communist years, and about what she's working on now.
Nate Brown: Can you tell us where this story came from? Is it based on experience or is it wholly a work of imagination?
Sofi Stambo: Where did this story come from, where do they all come from? I am glad they do. This place or state of mind is similar to the one you are in when you are in love. A nice place, even if unreal.
NB: How does "Ships" compare to your other work? Do you tend to write short pieces or longer stories?
SS: All of my stories are short. A friend was making fun of me, saying that I am trying to just get it over with. But really there is never time to sit down and explain it all, and then who has the time to listen? I write about grandparents, immigrants, people on the subway, mornings, winning.
NB: We get the clear sense that class plays a major role in keeping the protagonist and her beloved Mario apart. Captain Tomov's family is wealthy, while her's is not, and I found myself thinking that this wasn't merely a story of young, unrequited love, but also of how class and money keep people apart. Is that a fair thing to say about the story?
SS: I grew up during communism, which was supposed to be a classless society. We were all supposed to be equal, just that some were more equal than others, as my father joked. It was also a closed society—almost no one got to go outside of our version of the world. Varna is on the Black Sea and some men worked on the ships. My uncle did, too. He would bring us a Mister Peanut can or a Spanish dancer doll or Swiss chocolate, and we would remember that for years. So, being on a ship was a way to sneak a peek behind the iron curtain. People who did had this aura around them, a special power. Mario's house was a magical place for this reason. I could have fallen in love with a tree or a coffee can just as easily.
NB: The story ends on that two-word sentence "And cut." When I first read the piece, I wasn't sure if it was part of the narrative or not (though you cleared that up for me). The phrase is resonant here because of the distance the protagonist feels from the Tomovs, and feels that they are as distant from her as, say, a famous actor might be. That said, the phrase also leads me to think that it's not just the end of the story and the end of the summer, but in some other and more profound sense, it seems to indicate the end of the protagonist's fantasies as well, as if she's been disappointed and changed by this summer of romantic pining. Is she jaded at the end of the piece? Resigned to returning home and to school?
SS: That's a beautiful analysis. Yes, it is the final cut in the sense that now it is actually over. The summer, the childhood, the love that never happened, but was sweet to imagine.
NB: The sensory details in the story are so precise—there's the sounds of the watermelon being cut, the dice being thrown, the spoons in the ice cream bowls. There's the nearly worn out ribbon and shirt. There's the ever-expanding home of Captain Tomov. In a piece this short, how do you know which sensory details are necessary and which must go?
SS: Same as being behind the curtain, or the closed door of an exemplary home or being blind or not speaking the language, or simply being a child, you work with what you can get and make up the rest of it.
NB: I know you also studied literature as a graduate student both in Bulgaria and in New York City. Can you tell us a bit about the writers you particularly admire?
SS: If I am left to my own devices, that's all I'll do, study literature. I just came back from a fantastic Literary Seminar, Disquiet in Lisbon, where I studied some more literature. I came back with half of the contemporary Portuguese books in my luggage, and  most of the faculty's books, so my new favorites are: Susana Moreira, Jose Luis Peixoto, Possidonio Cachapa, Teolinda Gersao, Leslie Jamison, Noy Holland, Katherine Vaz, Jeff Parker, and Mary Gaitskill.
My all time favorites are everyone's favorites: Salinger, Hemingway, the Russians, most recently Dovlatov. From the contemporary Bulgarians translated into English, I enjoy Zahary Karabashliev and Georgi Gospodinov. Also number of other ones for me are: David Sedaris, Jonathan Ames, Francois Sagan, Grace Paley, Amy Hempel; I can go on and on.
NB: Can you tell us what you're working on now? More stories? A collection?
SS: I just finished a collection of short stories and am looking for an agent.
Sofi Stambo recently won the first prize in fiction in SLS Disquiet literary contest. She holds a Master's degree in Comparative Literature from Sofia University St. Kliment Ohridski, Bulgaria and was a graduate student in literature at the City College of New York. Her work has appeared or is forthcoming in Promethean, Ep;phany, Plamuk, Kenyon Review Online, Broadkill Review, New Letters,Fourteen Hills, New England Review, Stand and The MacGuffin and Guernica. She lives in New York City.