We deeply regret to report that the author of our October Web Exclusive, Ihab Hassan, passed away shortly after we accepted his work for publication. It is with our humblest gratitude to his family that we present his three short pieces here. We hope you find them, as we did, breathtaking moments, rendered with artful precision, that linger long in the memory. On October 15, we will be publishing an interview with one of his colleagues at the University of Wisconsin–Milwaukee, where Hassan was an internationally respected professor of Comparative Literature since 1970.
Chestnuts
Widowed and childless, the man yearned to visit his mother's Anatolian village. It would be his first journey out of Egypt, squeezed between two deserts, and his dreams had become filled with snow-dusted pines. Collecting his savings from a life working the land, he boarded a rattletrap bus to Alexandria, goats and straw baskets tethered to the roof. In the ancient port, he scanned the ships on the horizon, specks trailing threads of smoke. The ancient Library of a million scrolls, the Pharos that stood high among the Seven Wonders of the World—now rubble on the harbor floor—seemed alien to his purpose.
In the evening, he went down to stroll on the quay and watched boys and girls cruise in separate clusters, chattering above the caw and yipe of gulls, the splash of waves calling him to another shore. Faintly, the smell of roasted chestnuts filtered through his reveries. He stopped by a vendor and bought a dozen just off the coals, still hot in their newspaper wrappings. But something tugged suddenly at his elbow, tugged thrice, harder each time, spilling the chestnuts on the curb.
Flushed with anger, the man spun around, saw a stunted creature by his side, neither cripple nor dwarf, all rags and hair and broken teeth, darker than a gibbon and more rank. There was life in the misshapen heap, some unknown monstrosity with a vatic air. The vendor screamed imprecations, raising high his arm; the creature retreated with an unearthly wail, as if self-garroted, without revealing its mission on Earth.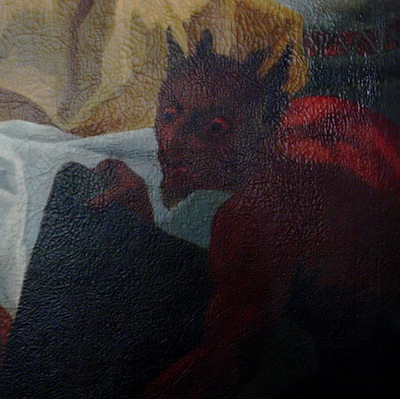 [1]That night, the thing returned to the man's bed, coals and chestnuts now filling its eyes. The words out of the hole that may have been its mouth gurgled like the eddies of a foundering ship. When the man finally woke up, he felt something press down on his ribcage, gentle like his mother's wrinkled hands, heavy like the loneliness of all his years. He could not dress: his ship departed.
The Bicycle
Behind their luxury hotel in New Delhi, screened by a twelve-foot bamboo fence, a shanty or barrio or bidonville—misery carries many names—spread into the night. Untouchables dwelled there among crates, tin cans, shredded canvas roofs, among rivulets of excrement and low-banked fires and silent shadows flickering in the dark.
Ignoring the warnings of the doorman—fake dagger in his belt—the woman suggested an evening walk on a dirt path skirting the slum. Let's not argue with Ali Baba, she whispered to her mate. As they strolled past a giant banyan tree, a figure on a bicycle suddenly loomed out of the blackness, all knees and elbows, almost invisible except for red-veined eyes. It lunged malevolently at the woman, as if to run her down, before dissolving into the air. She swerved, stumbled, but her mate reached for her arm before she could tumble into a putrid ditch.
Despite the heat, the woman shivered. The man tried to fold her in his arms; brusquely, she jerked away. In her high-shouldered hunch, she plunged ahead without looking back. Somewhere, a night bird screeched in her head—what guided that specter's hand on the bicycle bar? Her mate looked sadly at her back. Under the dirty halo of a street light, her profile was leaden.
Through the years, they stared balefully at each other in rare moments—when they boarded a flight to a place with polluted tap water, when they heard their son, dead in a distant war, calling them from the grave—and remembered the phantom cyclist, his dire presage.
The Gap
His father, a Thessalonikan with a twitching mustache, left his Egyptian wife in Suez and came to Sydney, bringing with him toddling Alex, eyes the color of green olives. His stepmother raised him alone when her Greek husband died wheezing, spent over her creamy Irish thighs. The boy collected conches, discarding any with the faintest discoloration, the thinnest crack. What do these facts explain?
Give your fancy reign. Imagine platelets of sorrow settling in Alex's veins. Imagine clashing chromosomes—Phoenician sailors, Greek merchants, marauding Crusaders, Fellahin, tan and timeless like the Nile—spinning in his blood. In the slanting Antipodean light, look closely at Alex. Can you see the fine intelligence teetering at the edge? The ragged synapses within his brain?
He studied medicine—everyone called him Doc—and after Alex's wife and son died in a horrendous crash on the Circular Quay Skyway, he took to walking the streets of Sydney, chalking three words on the sidewalks in elegant Copperplate: Mind the Gap. Chalked them everywhere, from Parramatta to Watson Bay.
Older folk said he was a latter-day Arthur Stace, trying to save the world. The young, who had never heard of Stace, said, "What?" But Stace was a drunk and drifter, tall, stooped, and sweetly daft—everything about Alexander was round—an illiterate walker for God, gassed at Ypres, who could write only the one beatific word, Eternity, which, on the eve of the third millennium, the city lit up in letters one hundred feet high across the Harbor Bridge.
The dazzling word turned slowly into puffs of smoke. Still, the few who knew Doc understood his desperate dedication to close all the cracks of creation. Close also the great Gap opening Sydney Harbor to the Pacific. ("Wide wink of eternity," Alex often quoted Hart Crane, who drowned himself in another sea). Close even the gap that was Alexander's own life, when they fished him out of the water, mouth open, an inexorable rictus.
Ihab Hassan was born in Egypt in 1925 and immigrated to America in 1946. He earned a doctorate in literature at the University of Pennsylvania in 1953 and taught at Rensselaer Polytechnic Institute and Wesleyan University. In 1970 he became a Vilas Research Professor of English and Comparative Literature at UWM, where he remained until his retirement in 1999. He wrote 15 books and more than 300 articles on literature and culture, and is widely credited with coining the current contemporary use of the term "postmodernism." Dr. Hassan passed away from a heart attack on September 10, 2015.