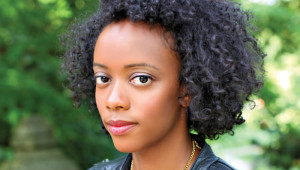 Angela Flournoy's The Turner House follows one large Detroit family struggling to do right by one another while also figuring out what to do about the family home, which is on the brink of foreclosure. It's a tender look the messiness of sibling relationships set against the backdrop of a slumping economy and the then-emerging housing crisis of 2008. Among other honors, the novel was a Summer 2015 Barnes & Noble Discover Great New Writers selection, and was awarded the Center for Fiction First Novel Prize. Flournoy was also recognized as one of the National Book Foundation's "5 Under 35" (for exceptional work by authors younger than thirty-five years old). Currently, The Turner House is a finalist for the National Book Award, and on Tuesday, November 17th, the public will be able to stream the annual National Book Award finalists reading at the New School. We emailed Flournoy five quick questions about the novel, the differences between being a writer and an author, and about her reaction to the book's success.
—
Nate Brown: To start, I want to ask about the reception of the The Turner House and about the book being included first on the long list (and now as a finalist) for the National Book Award. How'd you get the news?
Angela Flournoy: Well, I really freaked out when I found out about the long list in September. I had just sorted my clothes to take them to the laundromat, and my phone started going nuts in my back pocket. Someone on Twitter had tweeted I was on the National Book Award list. I dropped the bag of laundry and screamed. I'm not a writer who pins their hopes on outside recognition, and especially not on national award attention, so I shocked myself by how happy I was. Before then, I'd felt like my book had already done better than I could hope for as a debut. Getting on the long list was over and above what I had thought was even possible.
NB: Many authors have written or spoken about the dual roles that an author plays. On the one hand, you're in solitude writing a book and selling it and revising it in preparation for publication and on the other, after publication, you're out in the world giving readings, appearing on panels, and attending book festivals. I'm being a bit reductive here, of course, but how's life been treating you post-publication?
AF: Life has been very good post-publication. You're right, there is a big difference between being a writer and being an author. There's also a potentially steep learning curve. It's great to meet readers in person, and to have opportunities to travel and meet other writers, but it's an entirely different skill-set than what one needs to write a book. I'm enjoying being an author, but I never forget that it was the quiet, long, "writer" hours that got me here, and I look forward to being a writer again soon.
NB: What are some of the reactions you've had to the book from readers? Were there any comments or observations that stood out as particularly apt—or, on the other hand, were there any reactions that really surprised you?
AF: I did an event in Ann Arbor this past September where I was on a panel, which is always fun because you're not just up there alone talking about your book. After the event I was sitting at a table signing books and an older woman holding a copy of my novel came up to me and said "I come from a big Jewish family and I related so much to the family here. I didn't know black people could be neurotic, too." I started laughing, and she started laughing. I don't think my characters are particularly neurotic, nor do I think any one group is more prone to neurosis (or rather, the pop-culture connotations of the word), but it tickled me. It took a work of fiction to help her realize that many families have things in common. I guess I'm glad to have played a small part in that realization.
NB: The novel is set in 2008 in Detroit, and while hard times are acknowledged and the scourge of abandoned single-family homes is examined, the Detroit in your novel never feels hyperbolically awful nor exaggeratedly hopeful. It's just a big, post-industrial town where people are trying to make it. That struck a chord with me, and I'm curious to know how conscious you were of perceptions of Detroit as you set out to tell a story that's very much about living and dying in Motor City. Were you actively working toward or against a particular vision Detroit?
AF: If I was working against any existing Detroit narrative, it is the one where working-class black people exist as numbers or victims and not as fully-realized, complex people. When I started writing the novel the city had about 30 percent of its population living below the poverty line. I always kept this and other statistics in mind, but they were not as important as the many positive memories I've made in Detroit, and the black residents I know whose lives aren't bleak, and who have reasons to be proud. Any realistic depiction of Detroit should include the blight and frustration that come with living there, but it should also show regular people experiencing joy.
NB: The central figures in the book are the eldest Turner, a man named Cha-Cha, and the youngest Turner, a woman named Lelah. For all of the years—and the eleven siblings—between them, the two of them have a lot in common. They're both stubborn, they're both pretty judgmental, and they're both struggling to understand themselves in light of the major curveballs they've been thrown. For Lelah, it's a gambling addiction and an eviction; for Cha-Cha, it's a really awful on-the-job accident caused by what he believes to be an apparition. Why did you put these two, in particular, at the heart of the novel?
AF: I wanted to show how you can stand still in a place, and just by the passage of time so many things will change. That's what happened to the Turners on Yarrow Street. The parents, Francis and Viola, did all of the "right things"—they worked hard, made sure their children stayed out of trouble—and yet the house's value has plummeted by Lelah's generation, and the neighborhood is unsafe. Rather than simply rail against the injustice of this (and there is clear injustice at play), I saw Cha-Cha and Lelah as opportunities to explore what these changes felt like, and how they might effect a child growing up on either end of that passage of time.
Angela Flournoy is the author of The Turner House and one of five finalists for this year's National Book Award for fiction. A graduate of the Iowa Writers' Workshop, Flournoy's fiction has appeared in The Paris Review, and she has written for The New York Times, The New Republic and The Los Angeles Times. She has taught at the University of Iowa and The Writer's Foundry at St. Joseph's College in Brooklyn. In the spring of 2016, she'll join the faculty at Southern New Hampshire University's low-residency MFA program.