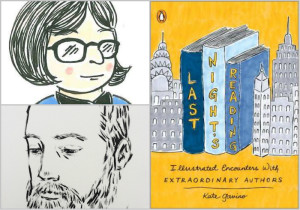 [1]Though artists and writers Kate Gavino and Devin Symons have never met, each has taken to attending literary events where, in addition to listening to the work, they draw the authors. Gavino's project, Last Night's Reading [2], began in New York in 2013, and she estimates that she's attended approximately 400 readings since then. Last month, Penguin published a collection of her author portraits called Last Night's Reading: Illustrated Encounters with Extraordinary Authors. Just over 200 miles to the south, fiction writer, translator, and visual artist Devin Symons has made it a habit not to attend any reading without a sketchpad handy. His Writers in Person [3] project collects his author portraits. We recently reached out to Gavino and Symons to ask about their favorite readings, their current projects, their visual styles, and to gain some insight into what writing and drawing have in common.
—
Nate Brown: You're both visual artists who attend literary readings and draw the writers while also listening to the work. Can you say a little bit about your visual styles and what you hope to capture during a reading?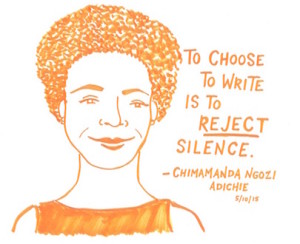 [4]
Kate Gavino: I have a really simple style that places a lot of the focus on the quote I'm featuring alongside the portrait. My main goal is to share some of the knowledge or wisdom or humor I gained from the reading. I try to choose a quote that encompasses the overall tone of the reading.
Devin Symons: Both my parents are visual artists, so as I grew up there were always art supplies around. I never formally studied drawing or painting—it was just something I did, something my family did. My mother has kept sketchbook journals for decades, and at plays or events I'd often see her drawing the people on stage. She is the most direct inspiration for my series of author sketches. (As is her art blog "Each Day is a Celebration [5]," which she's been keeping up for the past five years.) Whenever I travel I carry a sketchbook journal, so that's fed into the process as well. I have a whole box of those in my closet.
The portraits I make are detailed but not at all photorealistic—I'm trying to capture an aspect of the author's character, the way they appear to me in the moment of reading. Flash portraits. That's what they are.
NB: How do you divide your time between sketching during the reading and listening to the reading itself. Is it difficult to maintain concentration on one of the other? 
DS: It actually helps me to focus on the reading if I sketch while listening. I think it keeps a part of my brain occupied that might otherwise get distracted, wander into daydreaming. Sketching also requires an attention to subtleties in the reader's expression; overall it directs and centers my focus on the reader—where it should be.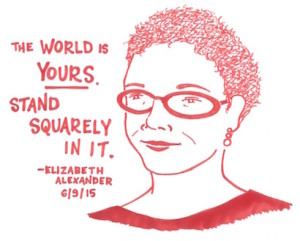 KG: I find that sketching helps me focus and gives me something to do with my hands. I don't sketch throughout the entire reading, but when I do, I'm not tuning out what's being said during this time. I also alternate pretty frequently between sketching and taking notes. It may seem like a lot to focus on at once, but for me, this weird combination is the best way for me to focus.
NB: How do other audience members respond to your drawing? How do the writers? Do you show them your work? What are the best and worst reactions you've had to your work during a reading?
KG: The people who follow my drawings online like to share them with their friends if a particular quote speaks to them, while many writers are usually just happy someone came to a reading and paid enough attention to draw them. The best reaction I recently got was from Ursula LeGuin [6], who I sent a copy of my book to since her portrait is in it. She said she loved the book and agreed with all the authors quoted in it—except for two white male authors. I'll let you imagine who those two writers are, but her response made me laugh.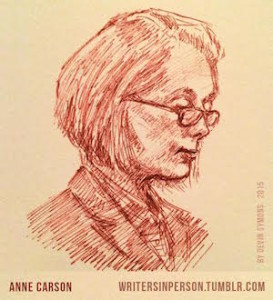 DS: After the reading, in line for the book signing, other people who noticed me drawing will sometimes come over and ask to see the finished sketch. They really seem to enjoy it. People ask to take photos.
I've gotten a range of reactions from the writers themselves, but never anything negative. I think it's an unusual thing to be presented not with a photograph but with an interpretation of how you look, how someone else perceives and renders you; it could differ in many ways from how you see yourself.
Kazuo Ishiguro [7] told me my sketch was a good likeness of him about twenty years ago. Ditto Gary Shteyngart [8]: "You gave me more hair. I like this. Thank you for hairing me." When I told her I'd drawn her portrait, Anne Carson [9] simply said "Okay," and "Thank you" when I gave it to her. Lauren Groff [10] gave me a hug. Ruth Ozeki [11]posted her portrait on her blog. David Sedaris [12]called me back up and gave me a draft of the essay he'd read from; it was covered with his edits and notations (squiggly lines at points where the audience laughed loudest). The essay was going to be published in the New Yorker the following month, so that was very trusting of him. I keep that draft in my special memento collection. Kate Beaton [13] drew me back, in her own inimitable style; that portrait sits above my desk.
NB: What's the appeal of drawing writers during literary events? How'd you get started?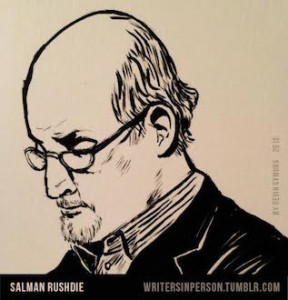 DS: I started because I usually had a sketchbook with me anyway (a habit I carried over from my travel journals). Only in the last two years did it become a thing I did regularly and purposefully.
Meeting a writer in person is already an unusual experience—both writing and reading are for the most part solitary acts. It's especially unusual because of the intimate quality of reading: here is someone you've never met, but whose voice has been inside your head, calling up visions, provoking emotions. Drawing writers' portraits in a way makes that intimacy a shared or mutual one; I can give them something I created, a version of themselves filtered through my eyes and hands. It's an opportunity to connect at a level beyond simply letting them know I enjoy their work—a surprise, something unexpected that often leads to a deeper or more involved conversation than would otherwise be possible. And it's a way to give back to someone whose words have brought me joy or understanding, a tangible token of appreciation for them to take home.
KG: I started going to readings simply because I read constantly, and most of these events are free. I also love spending time in bookstores. I like drawing authors because I see them as rock stars in a way. To me, writers and musicians do the same service for their fans, but not too many people are drawing fan art for Zadie Smith [14] or Maxine Hong Kingston [15].
DS: Kate, how do you decide which readings to attend? Do you sometimes go to readings for writers you've never heard of, and does that end up being one way you discover new literary loves?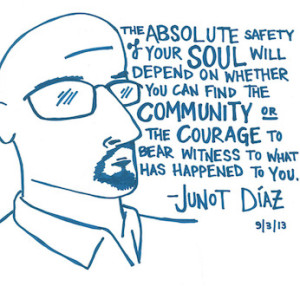 KG: I usually choose writers whose books I've read and enjoyed as well. Occasionally I will see an author whose work I'm not familiar with but who strikes me as interesting for one reason or another. I don't plan to read Karl Ove Knausgård [16]'s memoirs, but the fans at his event were so intense, it made for a memorable experience. Once in a while I'll go to a reading with a panel of authors, with the intention of seeing one author in particular, but I'll end up featuring another author on my blog because he or she said the most interesting thing of the night. So yes, I've discovered a lot of new writers by going to readings, and I've learned quite a bit about old favorites as well.
KG: Devin, do you ever see authors you dislike and walk away appreciating or even liking them after seeing them read? Does this affect how you draw them?
DS: When I have time to go to a reading, it's usually the reading of a writer whose work I already enjoy. Seeing someone read or meeting them in person can certainly affect the way I think about them, how I read them—some writers are great readers of their own work, while others seem less comfortable with the public performance side of publication—but I've learned something from every reading I've attended.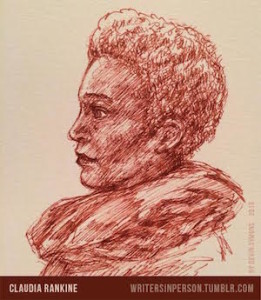 [17]
Salman Rushdie [17] is an amazing storyteller, and listening to him read from his new book Two Years Eight Months and Twenty-Eight Nights was a genuine pleasure. Karen Russell [18]was already one of my favorite writers before I met her, and in person she is both incredibly kind and self-deprecating, which only gave me more appreciation for her as an author. Chimamanda Ngozi Adichie [19] was inspirational, energizing—there was a hush and a thrum as she spoke, and afterwards she seemed almost baffled by the intensity of the attention as young people clustered around her, taking selfies, and asking questions.
Oddly, I think what most affects how I draw someone is not how I feel about them but how well I know them. The faces I know the best are often the hardest ones to draw, because I have to force myself to really see them objectively as faces.
NB: How many readings have each of you attended at this point? How many more do you think you'll attend?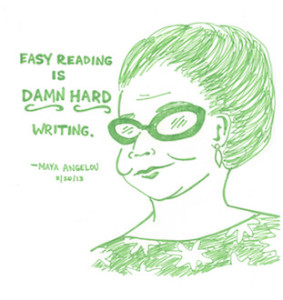 KG: I've attended around 400 readings since I started my blog in 2013. I go to about 2-4 readings a week at the moment. As long as my day job doesn't keep me from attending readings in the evening, I'm going to keep attending them.
DS: I'm not sure how many—at least a hundred, at this point. I'm at Politics & Prose [20], my favorite bookstore in DC, pretty much every week that I'm in town. (They have readings every day of the year; I can't begin to keep up.) I attend most of the PEN/Faulkner reading series [21], which is excellent. And American University, where I got my MFA, has a great Visiting Writers series; Claudia Rankine [22] was there on November 12. (I drew her portrait at AWP this year.)
Even if I weren't sketching, I would go to readings anyway because I love them. Being read aloud to, meeting a talented person previously encountered only on the page, the opportunity to ask questions—what's not to love?
NB: I know that both of you are also writers. Can you talk about what kinds of things do you write—and what you like to read? 
DS: I am. I finished my MFA at American University in May, writing mostly fiction but some essays and poetry as well. Since then I've been spending a lot of time at residencies, working on a collection of short stories and some flash nonfiction. I'm also in the process of translating into English the work of Kaneko Misuzu [23], an early 20th century Japanese female poet whose small, spare, beautiful poems are still largely unknown outside of Japan.
I read all the time, as much as I can get my hands on. Currently I'm reading New Sudden Fiction [24], Ta-Nehisi Coates' Between the World and Me [25], Elizabeth McCracken's Here's Your Hat What's Your Hurry [26], Lincoln Michel's Upright Beasts [27], Jeremy Hawkins' The Last Days of Video [28], a book on cryptography, and Joni Tevis' The World Is on Fire [29]. I am surrounded by books, which is a form of happiness.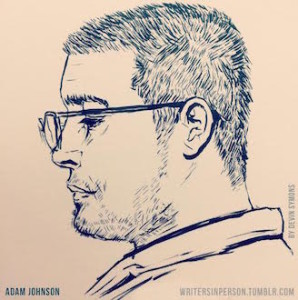 KG: I studied fiction in college, and I always considered myself a writer before an illustrator. Now I think I see myself as both equally. I read pretty widely: most genres, YA, fiction, non-fiction. Because of this, I go to a variety of readings and get to see all kinds of fan factions. Sci-fi fans are different from YA fans who are different from romance fans. But they're all there to see an author they love, which gives me something in common with all of them.
NB: Kate, congratulations on the book that's just come out, Last Night's Reading: Illustrated Encounters with Extraordinary Authors [30]. How did you decide which pieces to include? And is it strange, after having attended so many book events, to have a book of your own out in the world? 
KG: Thank you! I chose which drawings to include based on the categories I made to divide up the sections of the book. I also wanted at least 50% of the book to be new material, so all of the ones from the blog are my personal favorites.
It is strange being on stage at some of my favorite bookstores, rather than in the audience. But so far, all my events have been attended by fellow book-lovers, and their enthusiasm is always immediately welcoming for a nervous wreck like myself. I consider bookstores a second home, so it's been fun visiting bookstores outside of New York as well.
NB: Now that the book is out, will you continue to attend readings and make drawings?
KG: Book readings are so engrained into my routine that it would be strange not to go to them! Right now my calendar is still filled with all the readings I want to go to, so it looks like I have no immediate plans to slow down.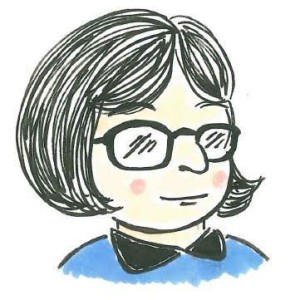 [31]Kate Gavino is a writer and illustrator living in Brooklyn. Over the last few years, she has attended hundreds of readings around New York City in venues ranging from factories to cemeteries, chronicling each one on her Tumblr [2]. She can also be found on Twitter [32], Instagram [33], and Facebook [34]. A collection of her author portraits, Last Night's Reading: Illustrated Encounters with Extraordinary Authors [35], has just been published by Penguin Books.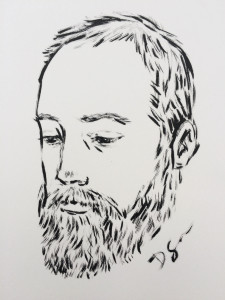 [36]Devin Symons is a writer and artist from Washington, D.C. He recently completed an MFA in Creative Writing at American University, and is a Fall 2015 Fellow at the Virginia Center for the Creative Arts, where he is working on a collection of short stories and a translation of modern Japanese poetry. His artwork has been exhibited in galleries in D.C., Tokyo, and Joshua Tree, California. He can be found on Tumblr [37], Twitter [38], Instagram [39], and at his website: devinsymons.com [40].