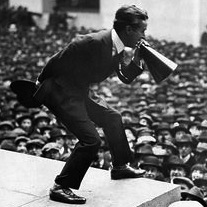 [1]We are so pleased to announce that Elizabeth McCracken has chosen the winners of our 2015 American Short Fiction Contest.
The first place prize goes to Leona Theis, for her story "How Sylvie Failed to Become a Better Person Through Yoga." McCracken writes, "This unsettling story about a 1970s summer sneaks up on the reader: at first it seems as aimless as its main character, but in the end it is a curiously moving story about self-knowledge and moral quandaries; it's also darkly funny, and beautifully observed." Look out for the story in an upcoming issue of American Short Fiction!
Leona Theis lives and writes in the musically-named Saskatoon, Saskatchewan, Canada. Her collection of interlocking stories, Sightlines (2000), is set in small-town Saskatchewan. Her novel The Art of Salvage (2006) is a story about messing up and finding hope. She is working on two other novels and a collection of essays. She is the winner of Canada's CBC Literary Award, and her personal essays appear in Brick Magazine, Prairie Fire, The New Quarterly and enRoute. Recently, one of her short stories appeared in The Journey Prize Anthology.
The second place prize goes to CJ Hauser for her story "Gala 4135." "In some other reality, during a historic blizzard, Emmy tries to take care of her mother, who is dying of cancer—plus it's hilarious and uplifting," McCracken tells us. "It also features the finest robot character I have ever read." Who can resist that?
CJ Hauser's first novel, The From-Aways, came out from William Morrow/HarperCollins last spring, and her fiction has previously appeared in Tin House, Narrative, The Kenyon Review, TriQuarterly, Third Coast, and Esquire, among other places. She received her MFA from Brooklyn College and is currently in hot pursuit of her PhD in Creative Writing at Florida State University.
Congratulations to the winners, and many thanks to Elizabeth McCracken for her terrific judgement!