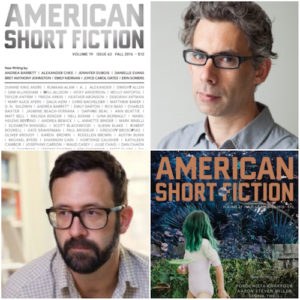 On the heels of a wonderful AWP conference in Washington, DC, we returned home only to find that recent ASF contributors Bret Anthony Johnston (ASF 63, Fall 2016) and Smith Henderson (ASF 62, Summer 2016) have been included on the longlist for the 2017 Sunday Times EFG Short Fiction Award. Johnston's story, "Half of What Atlee Rouse Knows About Horses" appeared as the issue opener in our special 25th Birthday edition. Henderson's "The Trouble" was the final story in our most recent summer issue. Each is available for purchase in our online store.
Billed as "the richest prize for a single short story in the English language," the Sunday Times EFG Short Fiction Award carries with it a £30,000 (~$37,500 US) purse. Regardless of who wins (and with Anjali Joseph, Celeste Ng, Elizabeth McCracken, and Kevin Wilson among the others up for the 2017 award, the competition is stiff), we're delighted to see fiction from our pages recognized.
According to the prize's website, "The shortlist of six will be announced on March 19, and the winner will be announced at a gala dinner at Stationers' Hall in London on Thursday, April 27." More information about the prize can be found here.