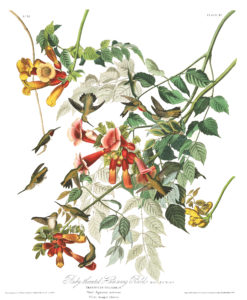 I am traveling across the sea, again. Sometimes it seems I have spent more time on water than on land; sometimes, when I am home, I wake up in the middle of the night and am surprised when my old legs meet solid, unswaying ground.
Earlier tonight I was dining with strangers and one of them—a young lady, with a hawk's nose—mentioned Wilson and looked at me, slyly, with a hawk's intelligence. I did not answer her. My son swooped in and changed the subject, quickly, delicately. He has become my protector.
But now it is late and the rest of the ship is asleep, save the seamen, for their work is never done, and I sit on the first-class deck and stare at the black, black sea, my father's pocket watch in my hand. I was born on an island, with a native's mistrust of the water.
It has been many years since Wilson was mentioned in my presence. I do not hate Wilson. I do not think of him. Others have hated him in my stead. Others have thought of him for all these years so I might turn my mind to birds.
My friends, who came to my defense: They said Wilson copied me. And then Wilson's friends: They said I copied Wilson. There was symmetry, at least, to the accusations. This evenness of proportion, it pleased me. Wilson was already dead, felled by dysentery. I met the man once, in Louisville. He was finely featured; when he opened his mouth, a Scot's brogue emerged, roughly beautiful. I could have listened to him speak forever.
Audubon, Audubon! My name unfurled on strangers' tongues, across the world. Audubon, Audubon! Wilson—I wonder how my name would have sounded on his tongue. He never spoke it in my presence. I imagine he thought of me as he lay dying. I imagine he hated me. Because though Wilson knew birds he did not love them. He must have envied me my love.
A wave slaps the ship. I do not have to consult my watch to know that it is late. The young lady has unsettled me. But not for the reason she intended. It is like that, when I am near a woman who is young, who is smart, who might have been Rose or Lucy in the life I might have had if God had looked the other way.
Infants: They move like baby birds, bones within a sack of downy, featherless skin, their movements irregular, fitful.
"Father?" I turn, startled, toward the voice. My son. I would have liked to see the girl again. I would have liked the pleasure of her company for a few minutes longer.
He takes me by the hand, prepares to lead me back to my cabin. I resist.
"Wilson envied you," he says, quietly, this boy who understands me so well and not at all.
"Yes," is all I say.
He should have envied me nothing. He was a smart man; he never married, never fathered a child, never closed that child's eyelids. The eyelids: They were warm. They gave easily. The thinnest membranes of flesh and cartilage beneath my fingertips. I was gentle, though I need not have been.
After, I stepped outside our tiny house, blood on my shoulder. A ruby-throated hummingbird held itself aloft near a bough of honeysuckle. Its wing, when stilled, weighed almost nothing. I'd held one in my hand, marveled at hollow bones so intricately assembled. Not meant for this world.
I am a bastard, conceived in the tropics. Whatever I have in this life, I have made it. Whatever love I have received, I have returned it, two-fold. When I see a bird, I see movement, I see flight.
I see a way into a blue beyond.
Anton DiSclafani is the author of two novels, The Yonahlossee Riding Camp for Girls and The After Party, both of which were Indienext Picks and Amazon Best Books of the Month. She was a finalist for the Flaherty-Dunnan first novel prize, and her fiction and non-fiction has appeared in Washington Square Review, the Washington Post, Electric Literature, and This American Life, among other places. She lives in Alabama with her husband and son, where she teaches at Auburn University.