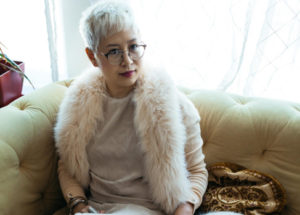 Esmé Weijun Wang is the author of the novel The Border of Paradise and the best-selling essay collection The Collected Schizophrenias, published in January. Called "riveting" by NPR and "mind-expanding" by the New York Times Book Review, The Collected Schizophrenias offers an intimate and rigorously nuanced exploration of the myriad meanings of schizophrenia—cultural, sociomedical, and personal. In this interview, we talk structure, subjectivity, and liminality.
—
Jennifer duBois: Can you talk a little about the origins of the collection, and the process of arranging its structure?
Esmé Weijun Wang: The first published essay in the collection was "Perdition Days," which Nicole Cliffe took for the now-defunct Toast; after I saw what an amazing response that piece received, I was then inspired to write more essays about the schizophrenias, including essays that were more journalistic and less based in my own experience.
I did approach my former agent a number of times to see if they might be interested in representing an essay collection based on those essays. They were not. I kept writing and asked a few more times. My final ask occurred at a fancy lunch in Manhattan; they said, again, that they were not interested. A number of months later, I saw that the Graywolf Nonfiction Prize was accepting submissions, and I happened to have the bare minimum of what they needed for a book-in-progress. I sent the nascent essay collection to Graywolf, and I ended up winning the prize; had I not won, the book would've died right there.
The process of arranging the structure was both extremely deliberate and fairly organic. Steve Woodward, my editor at Graywolf, and I went into the project knowing that we wanted the book to have more of a narrative arc than just, Here are a bunch of essays with a general theme thrown into one book. So, I would suggest some essay topics and write the new essays, and then we would try and see how those essays might arrange themselves in the book. We ended up combining some essays, or cutting some essays and keeping a few paragraphs from them.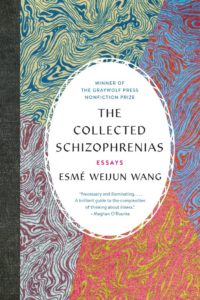 JD: One of the things I admired most about this book was its comfort with liminality and its ability to inhabit multiple truths and possibilities simultaneously. I'm thinking here of "Chimayo" and "Beyond the Hedge," where you examine some of the different frames/lenses you've deployed to understand and manage illness. I'd love to hear you talk a little about liminality and irresolution in your collection. Did the resistance to firm conclusions arise naturally, or is it something you've had to strive for? 
EW: Thank you for bringing this up. My resistance to firm conclusions is absolutely a result of how I approach essay-writing in general; it's not something I have to strive for. When people approach me with questions like, "So what *do* you think about involuntary hospitalization?", I just shrug. I'm not the kind of nonfiction writer who is constantly making arguments. Instead, I'm constantly asking more questions. I think of the book as first laying the groundwork for the discussion, and then introducing questions, and then [raising] more questions. I want the book to instigate discussion.
JD: In "Perdition Days," you speak about being advised against consuming fiction while delusional, and in other essays you explore the sometimes-fragile boundary between narrative and self. You also write movingly—in "High-Functioning" and elsewhere—about your strategies of self-presentation. Can you share a little about how these through lines shaped your approach to conveying the subjective experience of mental illness in this collection?
EW: One could argue that I am the most unreliable narrator possible, because of my diagnoses and the premise of the book. But I ask the reader to hold all of these things in their mind at once: I have a mental illness; I am the narrator; I have insight; I am thought of as high-functioning; this is my story. There have been a number of reviews that focus on this notion—I think the New York Times did, especially, with a headline of "Self-Evaluation." And I am only telling my story, and giving my experience. I cannot presume to be telling anyone else's story of the schizophrenias, unless I have interviewed them and am telling their story that way.
JD: In addition to being an essayist, you are also the author of a tremendous novel (The Border of Paradise, 2016) which touches on some of the themes present in your collection. I'm curious to hear about your approach to handling mental illness in your novel and your thoughts about the representation of mental illness in fiction more generally. 
EW: I never thought I would write nonfiction, so when I wrote Border, I intended to put everything I wanted to about mental illness into that book. There's a lot in that novel about the visceral experience of psychosis, which I hadn't found satisfying in other books.
I'm currently working on a new novel, and it seems that mental illness will appear in this book as well. I'm not completely sure, but I continue to find the representation of mental illness in fiction to be a challenge, the existence of which I hope continues to improve.
JD: What has been interesting/exciting/inspiring to you lately? What should folks who loved your collection read next? 
EW: I've been in love with Freshwater, by Akwaeke Emezi. It's been lauded, and for good reason—Emezi has written something like nothing else. They also have a YA book out soon, called PET. I'm really looking forward to that.
---
Esmé Weijun Wang is the author of the New York Times-bestselling essay collection The Collected Schizophrenias and the acclaimed novel The Border of Paradise. She received the Whiting Award in 2018 and was named one of Granta's Best of Young American Novelists of 2017. She holds an MFA from the University of Michigan and lives in San Francisco.
Jennifer duBois is the author of the award-winning novels A Partial History of Lost Causes and Cartwheel. The recipient of a Whiting Writer's Award, a National Book Foundation 5 Under 35 Award, and a National Endowment for the Arts Creative Writing Fellowship, duBois teaches in the MFA program at Texas State University. Her new novel, The Spectators, was published earlier this month.