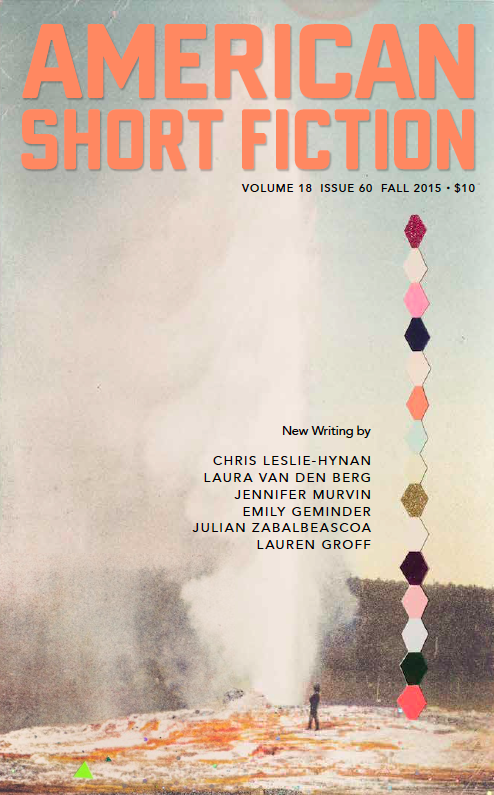 Make a Tax-Deductible Charitable Gift to American Short Fiction:
Since we printed our first issue in 1991, American Short Fiction has become a nationally celebrated journal. Stories from our pages have been honored with both praise and prizes, including publication in Best American Short Stories, Best American Non-Required Reading, O. Henry Prize Stories, and Pushcart Prize: Best of the Small Presses. American Short Fiction has twice been a finalist for the National Magazine Award for Fiction, publishing important work by Joyce Carol Oates, Dagoberto Gilb, Roxane Gay, Ann Beattie, Nathan Englander and so many others. In print, we focus exclusively on fiction while our website is a space for commentary, author interviews, analysis, as well as a monthly series of flash fiction.
We couldn't do any of the work we do to publish and promote contemporary literature without the generous support of individuals, foundations, and corporations. We are a non-profit arts organization, and charitable contributions to American Short Fiction are tax-deductible. Thanks for your friendship, and for believing—as we do—that creating great literature is a collaborative endeavor between authors, publishers, and supporters like you.
Contribute Online Using Credit/Debit (via PayPal):
Contribute with a Check:
In order to make your tax-deductible gift via check, we ask that you please follow these instructions:
Make a check payable to "American Short Fiction"
On the memo line of the check, please indicate that this is a "Gift" or "Donation"
Please mail your check to:
American Short Fiction
P.O. Box 4152
Austin, TX 78765
Once your donation has been received, we will mail you a receipt for your records.
Contribute a Gift of Stock:
Donating stock can have great tax benefits and is easy to do. If you give a gift of appreciated securities that you have held for more than one year, you may be able to deduct its full market value. Email us at giving[at]americanshortfiction.org for additional assistance and information on gifting stock.
Giving Levels

Mesquite Circle

Gift of any amount up to $249
Web thanks & thanks in the print edition

Red Bud Circle

Gift of between $250 – $499
Web thanks & thanks in the print edition
ASF tote bag
One-year subscription to ASF

Sycamore Circle

Gift of between $500 – $999
Web thanks & thanks in the print edition
ASF tote bag
One-year subscription to ASF
Entry to exclusive ASF events

Crepe Myrtle Circle

Gift of between $1,000 – $2,499
Web thanks & thanks in the print edition
ASF tote bag
Two-year subscription to ASF
Entry to exclusive ASF events
One gift subscription

Pecan Circle

Gifts of between $2,500 – $4,999
Web thanks & thanks in the print edition
ASF tote bag
Two-year subscription to ASF
Entry to exclusive ASF events
Two gift subscriptions to ASF

Live Oak Circle

Gifts of $5,000 & Above
Web thanks & thanks in the print edition
ASF tote bag
Two-year subscription to ASF
Entry to exclusive ASF events
Two gift subscriptions to ASF
Signed & personalized copy of an ASF author's book